9 Grain Cracked Cereal - K089 - Case(6) #10 cans
Overview
Our 9 grain cracked cereal is a versatile product to have on hand and in your long term food storage. This lovely mixture of nine grains is cracked to make a delicious cereal. This cereal has a hearty texture to it. It is a great way to start your morning. Add a little bit of honey to it and you will have a nutritious start to your morning. This cracked grain can also be ground into a 9 grain flour. Use this in making your breads and rolls. This is a must have for your long term food storage!
Ingredients: Hard red wheat, soft white wheat, barley, oats, corn, millet, flax, buckwheat, and rye. No preservative added.

This product is non-GMO. (Product is sourced in the USA)
Contains: Wheat
Packaged in a plant that handles milk, wheat, eggs, soy, and tree nut products.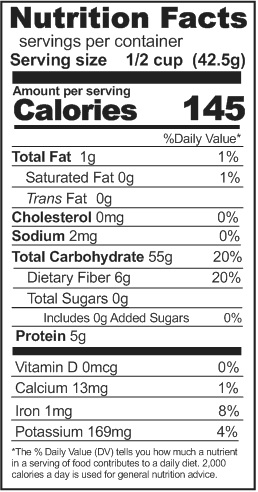 #10 case: K089- 276 servings

Also available in:
5 Gallon Super Pail Bucket: E038- 330 servings