Baby Lima Beans - A098 - 50 lb. bag
Overview
Our baby lima beans are a good source of vitamin B, protein and fiber. They are also low in fat and calories. They are sometimes called butter beans and have a flat, oval shape. They develop a creamy texture when cooked. As like most beans they have long term shelf life expectancy. Great to add to your food storage and emergency food stock. Beans need to be soaked overnight or boiled several hours for tenderness. They can be eaten alone with salt, pepper or other desired spices or used in salads or soups.
Ingredients: Baby Lima beans. Naturally gluten free product.

Packaged in a plant that handles milk, wheat, eggs, soy, and tree nut products.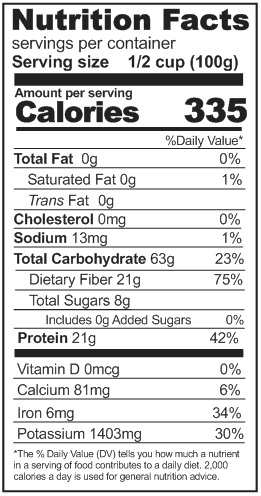 Bulk A098-50 lbs bag: 227 servings
Also available in:
#10 can: K005-88 oz. 25 servings

Bulk: A001-25 lbs 113 servings

5 Gallon Super Pail Bucket: E001- 158 servings