Imitation Beef Flavored Bits - F073 - 18 lb. 5 gal SP
Overview
Our dehydrated imitation beef bits are a versatile product that is great for those that do not like meat. Imitation beef bits are also great for those that do like meat. These bits can be used for soups, casseroles, sauces, and meat loafs. Imitation beef bits can also make your meat go further. They can be mixed in with your meat. This is a great way to add protein to your family's diet. These bits are as delicious as they are easy to use. A need for your long term food storage.
Ingredients: Textured vegetable protein (soy flour, caramel color), soybean oil, hydrolyzed soy protein, salt, ferrous sulfate, niacinamide, zinc oxide, calcium pantothenate, pyridoxine hydrochloride, riboflavin, thiamine mononitrate, vitamin B12. Ingredients may be GMO.

Contains: Soy
(Product sourced in the USA)
Packaged in a plant that handles milk, wheat, eggs, soy, and tree nut products.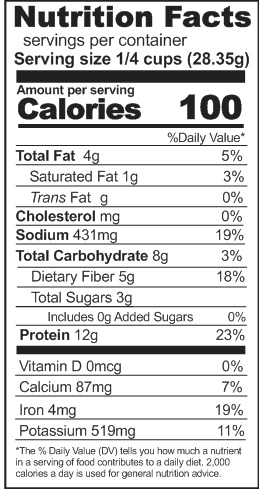 5 Gallon Super Pail Bucket: F074- 18 lbs. (8.16kg) 288 servings

Also available in: