Cinnamon Powder - U179 - 16 oz. #2.5 can
Overview
Our cinnamon powder is a great spice to have on hand. Cinnamon powder is often known as the sweet tasting spice. It can be used to sweeten up rolls and puddings but it can also be used to flavor meats. Cinnamon powder is the spice that chefs have been reaching for for centuries in flavoring food. A little goes a long way to adding just a hint of sweetness to something that may be spicy. You do not want to be without this spice in your pantry as well as in your long term food storage. It is a must. It helps flavor fruits, cereals, breads, cookies, and puddings. This is a must have in your food storage for helping things taste like you remember them tasting.
Ingredients: Ground cinnamon powder. No preservative added. Naturally gluten free product.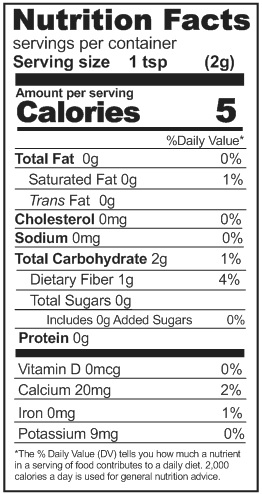 Packaged in a plant that handles milk, wheat, eggs, soy, and tree nut products.
#2.5 can: U179- 16oz. (454g) 226 servings