Freeze Dried Apple Dices - K136 - Case(6) #10 cans
Overview
Our freeze dried apples are a versatile fruit. You can use them to make apple crisp or apple seventh heaven. Freeze dried apples are great to eat right out of the can. They can be made into applesauce and used in any recipe that calls for apples. Throw them in yogurts or in your morning cereals. They are great for making quick healthy snacks or trail mixes. Use them to make an applesauce that can glaze your favorite meat. The possibilities are endless as to what can be done with this fruit. Freeze dried apples are easy to store because they are light weight, but they pack a powerful flavor. They last up to 25 years. A great item to have in your food storage.
Ingredients: Apple, ascorbic acid, citric acid, sodium chloride. Naturally gluten free product.

(Product is sourced in USA, ascorbic acid sourced in China)
Packaged in a plant that handles milk, wheat, eggs, soy, and tree nut products.
#10 case: K136- 142 dry servings

Also available in: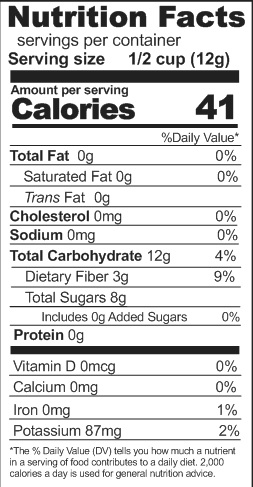 #2.5 can: G119-3oz. 8.5 dry servings

#2.5 case: G120 51 dry servings
#10 can: K135-10oz. 24 servings