Freeze Dried Strawberries-Slices - G137 - Case(6) #2.5 cans
Overview
Our freeze dried strawberries are versatile and make for a great on the go food snack and are great to have in your long term food storage. They last for twenty five years in your storage. These are great for making jams and are excellent in oatmeal, strawberry shortcake, and salads. Eat it plain or rehydrate by adding water to add to any recipe calling for strawberries. Freeze dried strawberries are light weight, but pack a powerful flavor.

Ingredients: 100% Strawberry. No preservative added.

(Product may be sourced in Argentina, Chile, China, Egypt, Mexico, Morocco, Poland, Serbia, Turkey and USA)
Packaged in a plant that contains milk, wheat, eggs, soy, and tree nut products.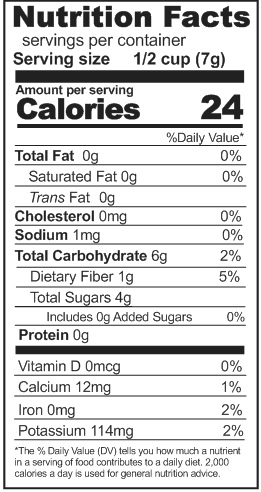 #2.5 case: G137- 49 dry servings

Also available in:
#10 case: K152 146 dry servings