Freeze Dried Raspberries-Whole - G121 - 2.5 oz. #2.5 can
Overview
Freeze dried raspberries are a wonderful whole berry that has a unique taste. These are light weight and are easy to store. They are great for an on the go snack. Can be used in green salads, used for making wonderful sauces, topped on cakes, or in pies. They are versatile so you can have them for any meal or throw them in to add a little kick to your fruit smoothie. Put them on top of pancakes or in hot or cold cereals. Freeze dried raspberries will store for a long time and they will add flavor and color to any food they are in. A must have for any food enthusiast!
Ingredients: Freeze dried raspberries made from sun ripened raspberries. No preservative added. Naturally gluten free product. This product is non-GMO.

(Product may be sourced in Chile, Mexico, Poland, Serbia and USA)
Packaged in a plant that handles milk, wheat, eggs, soy, and tree nut products.
#2.5 can: G121- 2.5oz. (71g) 6 dry servings

Also available in: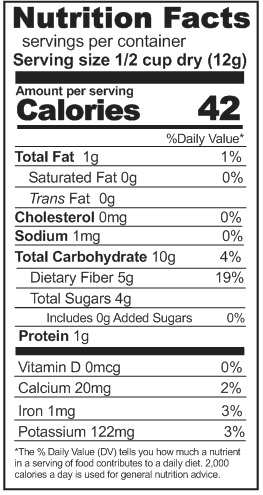 #2.5 case: G122 36 dry servings
#10 can: K137 9 oz 21.5 dry servings
#10 case: K138 129 dry servings