Molasses (sweet - unsulfured) - P010 - 59 lb. bucket
Overview
Our liquid molasses is a great product to have in your long term food storage. Molasses is great for making cakes, cookies, sauces, and other baked goods. This molasses is sweet so it comes from the first boiling of the sugar cane. This molasses does not have sulfer in it so there are no preservatives. This is a delicious addition to your long term food storage needs.
Ingredients: Sweet unsulfered sugarcane molasses. Naturally gluten free product.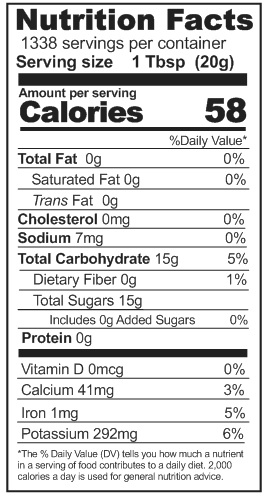 This product is non-GMO.

(Product sourced in the USA)
5 Gallon Bucket: P010- 59lbs. (26.76kg) 1338 servings
NOT eligible for UPS ground shipping