Natural Amaranth - O048 - 25 lb. bag
Overview
Our natural amaranth is a wonderful grain to have in your long term food storage. This grain is very high in protein. It is an ancient grain used by the Aztecs. It is gluten free so if you have any form of wheat intolerance, you can use this grain. It can be ground into flour to make your bread. It can be popped to make an alternative to popcorn; it can be used for a great morning cereal. Amaranth will keep its crunchy texture which is great for adding a little more depth to your cereals. Amaranth is one of the super grains. It contains twice the amount of amino acids that wheat does. It is high in minerals including iron and calcium. This grain can pack a powerful nutrient punch to your diet. This is a must have for your long term food storage. Even if you are not gluten intolerant, this grain will provide a good mix to your family's diet.
Ingredients: Natural Amaranth grain. No preservative added. Naturally gluten free product. This product is non-GMO.

Packaged in a plant that handles milk, wheat, eggs, soy, and tree nut products.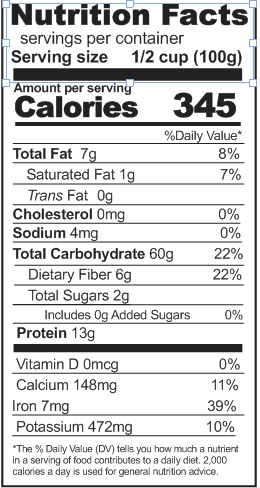 Bulk: O048- 25lbs. (11.34kg) 113 servings

Also available in: