Natural Spelt - O056 - 35 lb. 5 gal SP
Overview
Our Natural Spelt is a wonderful grain to have on hand. This grain has less gluten in it than wheat, so if you cannot handle wheat then spelt would be a great alternative. This grain can be cooked to make a great morning cereal. It can be ground into flour for making bread. Spelt flour handles a little bit differently than other flours. It has a high water solubility that makes it easier to digest. Natural Spelt is also very high in niacin and protein. If you have wheat allergies then spelt may be the grain for you. Spelt does have less gluten than what is found in wheat. This grain will allow you to mix things up in your diet. This makes a great addition to your long term food storage.
Ingredients: Natural Spelt. No preservative added. This product is non-GMO.

(Product sourced in the USA)
Packaged in a plant that handles milk, wheat, eggs, soy, and tree nut products.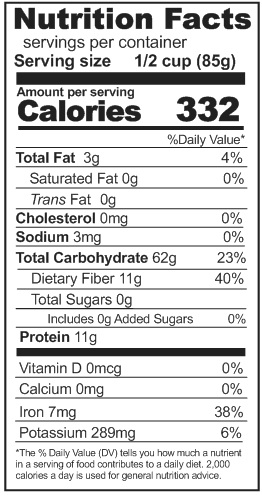 5 Gallon Super Pail Bucket: O056- 35lbs. (15.88kg) 186 servings

Also available in: