Whip Topping - J021 - 71 oz. #10 can
Overview
Our whip topping is a wonderful base to use for your favorite desserts and breakfast food. This topping is great to have on hand when you are having your favorite bowl of mixed berries. Use it to top strawberry shortcake. This topping is great to have on hand because when you want to have crepes in the morning, or waffles, you can top them with your favorite berry or sweet topping along with a nice dollop of whip topping. This powder is as delicious as it is easy to use. A need for your long term food storage-not just a luxury!
Ingredients: Sugar, partially hydrogenated vegetable oil (coconut, palm kernal oils), propylene glycol monostearate and/or acetic acid ester of mono- and diglycerides, corn syrup solids, sodium caseinate, monoglycerides, salt, tetra sodium pyrophosphate, dipotassium phosphate, natural and artificial vanilla flavor.

Contains: Soy and Dairy.
(Product sourced in the USA)
Packaged in a plant that handles milk, wheat, eggs, soy, and tree nut products.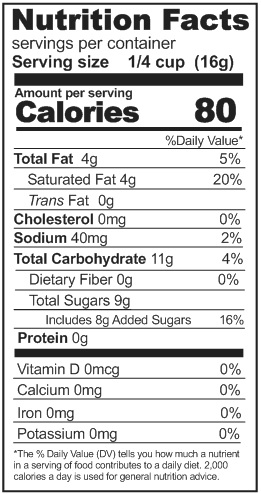 #10 can: J021- 71oz (2013g) 84 servings
Also available in: