Dehydrated Applesauce - G034 - Case(6) #2.5 cans
Overview
Our dehydrated applesauce is a versatile product for cooking. This product can be rehydrated and used as applesauce to eat. This will be handy for families with very young children. Applesauce is great to use in cooking because it can replace the butters and fats in your cooking. It adds flavor and moisture to products that it is added to. Applesauce can also be used to coat meats for roasting which is sure to spice up any roast that it is added to. Applesauce can be added to yogurt or to your morning oatmeal to give it that lovely fall flavor of apple and spice. And if you just are craving the taste of apple and you do not want to deal with the hard textures of apples, then applesauce is the way for you to go.
Ingredients: dehydrated apple granules, sodium as preservative, and calcium stearate used as a flow agent.

(Product sourced in the USA)
Packaged in a plant that handles milk, wheat, eggs, soy and tree nut products.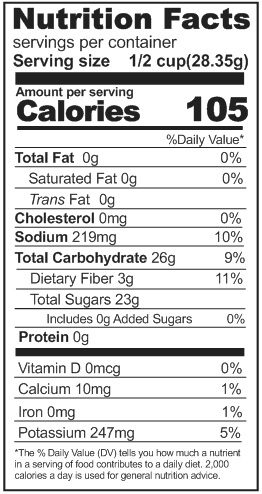 #2.5 case: G034- 60 servings

Also available in:
Bulk: L027- 15lbs (6.8kg) 240 servings
Bulk: L034- 35 lbs (15.88kg) 560 servings