Kamut® Brand khorasan wheat- O042 - 35 lb. 5 gal SP
Overview
Our Kamut®Brand khorasan wheat is an ancient grain and a variety of khorasan wheat. Kamut is a great grain that is high in protein and other nutrients. It can be ground into flour and used to make breads, pastas, and cookies. It is similar to durum wheat in its flour content, but it contains less gluten than regular wheat flour. So this is a great change for your diet if your body cannot handle wheat, but if you have celiac disease this grain still has some gluten in it. It can be cooked for a great morning cereal, used cold for salads and works great for pilafs. This is a must have for your long term food storage because it is so versatile and it will provide you and your family with some of the nutrients that your body needs!
Ingredients: Kamut is a registered trademark for Khorasan wheat. No preservative added. This product is non-GMO.

Contains: Wheat

(Product sourced in the USA)
Packaged in a plant that handles milk, wheat, eggs, soy and tree nut products.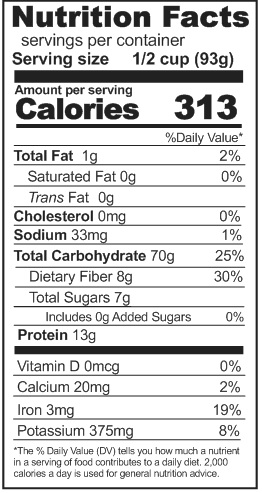 5 Gallon Super Pail Bucket: O042- 35lbs. (15.88kg) 170 servings

Also available in: