[caption id="attachment_2605" align="aligncenter" width="225"]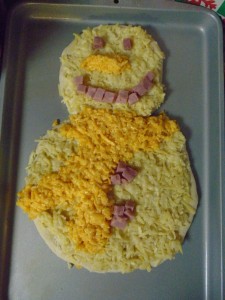 Snowman Pizza[/caption]
'Tis the season of giving. Most people believe in giving presents, and there is nothing wrong with that. Giving thoughtful gifts and necessities to those important people in your life and also to those in need and who can't afford to do a lot is a great way of spreading Christmas cheer! One of the necessities in life is food. With the help of Rainy Day Foods, we can help you with your gift giving. From a simple, yet thoughtful gift such as the Cup O'Cake Mini Mug Gifts to the more extravagant gifts like the Pizza Gift Pak.
[caption id="attachment_2606" align="aligncenter" width="300"]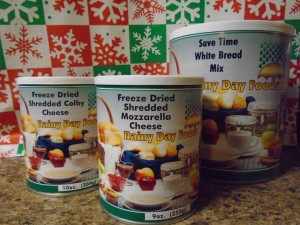 Pizza Gift Pak[/caption]
A gift like the pizza gift pak is a great gift to give someone because they don't have to make just pizza with it. They can use the included Save Time White Bread Mix to make a loaf of bread, rolls, cinnamon rolls, and of course pizza dough. Making homemade pizza is a great way to bond with the family. Children love to help out, especially when it comes to fun things like baking. To add some Christmas cheer to this fun meal, ask your kids the question I'm sure every child has said at least a hundred times this year—"Do you wanna build a SNOWMAN?!"
We start by putting 2 tablespoons of instant yeast into a big mixing bowl with 2 ¼ cups hot water (105-110 degrees). Stir, then add 6 cups of the bread mix.
[caption id="attachment_2607" align="alignleft" width="150"]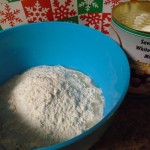 mix the dough[/caption] [caption id="attachment_2608" align="alignleft" width="150"]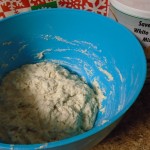 knead the dough[/caption]
Knead the bread until smooth and elastic. You can also use the dough hook in your Bosch to knead the bread dough on a medium speed for about 15 to 20 minutes.
Once the dough has been kneaded, let it set for 10 to 20 minutes. Grab a medium-sized ball and roll it out with a rolling pin to make a snowman body.
[caption id="attachment_2609" align="aligncenter" width="300"]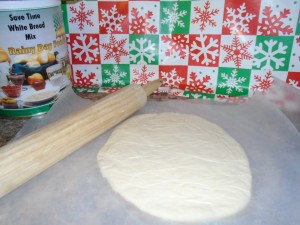 make the snowman's body[/caption] [caption id="attachment_2610" align="alignleft" width="150"]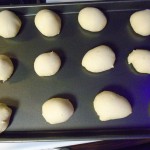 make and bake rolls with remaining dough[/caption]
With the leftover dough, drop the dough into rolls onto a greased pan. Cover with a towel and let rise for 30-40 minutes. Bake the rolls at 375 degrees for 12-15 minutes.
While the rolls rise and bake, rehydrate a cup of freeze-dried mozzarella cheese with hot water. Let sit for 5-10 minutes, then drain the excess water. Then do the same with the freeze-dried colby cheese.
[caption id="attachment_2611" align="alignleft" width="150"]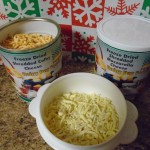 reconstitute freeze dried shredded cheese[/caption]
Using the reconstituted cheeses along with whatever other toppings you like, decorate your snowman!
When you're done, bake at 375 degrees for 12-15 minutes. Enjoy spending time with your family and friends. Be safe and cherish the memories you make together. From our family to yours, we wish you all a very Merry Christmas and a Happy New Year!
Contributed by Angelia Kunz