I grew up eating sloppy joes on a regular basis because it was a meal that my parents could make quickly and easily.  When I started cooking for myself, I would sometimes add lentils or quinoa to the recipe in order to stretch the expensive meat further. This recipe is designed to use your food storage, but you can add in some freeze dried ground beef if you have it on hand. It would also be great with imitation beef bits or fresh beef, whichever your preference.  If you do so, do not reduce the lentils by more than half --  they're filling, inexpensive, and are a great source of fiber.  This recipe will make even the pickiest meat eaters get a little more variety in their diet.
Ingredients
1 cup uncooked lentils
1 quart water
1 tablespoon olive oil
1/4 cup onion, rehydrated
1/4 cup mixed (red and green) peppers, rehydrated
2 tsp garlic powder
1 Tbsp chili powder
1 tsp salt
8 oz can tomato sauce  OR 3/4 cup water + 1/4 cup tomato powder
1/4 cup tomato paste OR 2.5 Tbsp water + 1.5 Tbsp tomato powder
3 Tbsp maple syrup
2 tablespoons yellow mustard
Rolls for serving
Directions
Put the lentils in a medium pot and cover with water. Bring to a boil over high heat, then reduce heat to medium.  Cover and simmer for about 30 minutes or until lentils are soft. Drain and set aside.
Meanwhile, heat oil in a pot over medium heat. Add onion and peppers and cook until soft. Add cooked lentils, garlic powder, chili powder, and salt; stir to mix. Add tomato sauce and paste. Continue to cook over medium heat for 10 minutes, then add the maple syrup and mustard.  Serve on rolls.
Yield: 6-8 sandwiches.
[caption id="attachment_2184" align="alignleft" width="150"]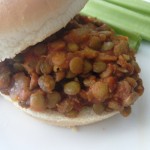 Lentil Sloppy Joes[/caption] [caption id="attachment_2185" align="alignleft" width="150"]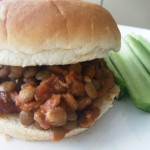 Lentil Sloppy Joes[/caption]