[caption id="attachment_2580" align="aligncenter" width="300"]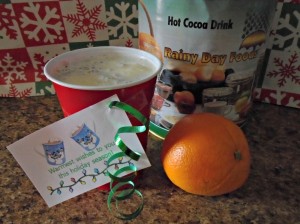 Spreading Christmas Cheer[/caption]
Nowadays people seem to think that Christmas is all about the gifts they receive and spending money on fancy items or "the latest trend" that they really don't need. However, that is not what Christmas is about. It's about being Christ-like and giving to those around you—giving to those in need and giving to those less fortunate; giving a material item or even better, giving your time and kindness to those around you. Good or bad, rich or poor, in the end, we're all human, and we should do our personal best to show love and compassion to everyone who comes into our lives. Do something so simple as to smile and wish a stranger a happy holiday. Hold the door open for someone. Do a good deed by shoveling someone's sidewalk or driveway. Or if you can, go a step further and spend a little of your money on a stranger or a few random people. Donate a toy to an organization that will give it to children whose families can't afford a lot. Give someone in need a few necessities like a blanket or some food. Share some Christmas cheer with your neighbors by surprising them with a nice cup of cocoa.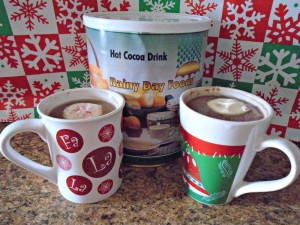 Make a big batch of hot cocoa in your crock pot just by adding the hot water and hot cocoa mix and stirring it on low until it's nice and hot. Or if you don't want to waste any of the delicious hot cocoa mix, use your crock pot to heat up just the water, and then put the cocoa mix into the cups.
For each cup of hot cocoa, I use 3-5 tablespoons of the hot cocoa into each cup, then finish with the hot water.
[caption id="attachment_2582" align="alignleft" width="150"]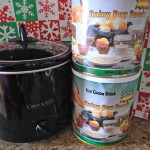 Crockpot Hot Cocoa[/caption] [caption id="attachment_2583" align="alignleft" width="150"]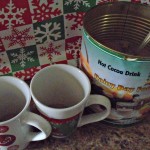 add cocoa mix and hot water to cups[/caption]
You can also make a small batch of whipped topping and freezing little dollops of it to serve on top of the hot cocoa. For some added Christmas cheer, you could grind up some candy canes or little peppermints, and sprinkle the powder onto the whip topping dollops before freezing them.
[caption id="attachment_2584" align="alignleft" width="150"]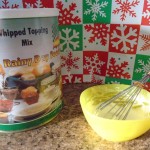 make small batch of whipped topping to garnish[/caption] [caption id="attachment_2585" align="alignleft" width="150"]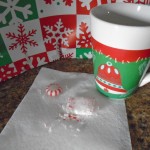 crush peppermint[/caption] [caption id="attachment_2586" align="alignleft" width="150"]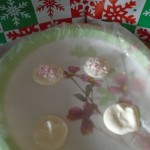 sprinkle on whipped topping and freeze[/caption]
Once it's ready, pour it into some to-go cups with a bow on top or some cute Christmas mugs to give away to your neighbors. You could even put it in a red solo cup as long as it's not too hot! Then finish it by attaching a cute little saying on it.
A small act of kindness can start a chain reaction of making this world a better place. So this Christmas season, do what you can to help make this holiday a little merrier for those around you. Ask yourself, what you can do to help make another person's day a little brighter. So we at Rainy Day Foods would like to make your day a little brighter by giving you the opportunity to win a Mini Mug Pak. Just leave a comment under this post on Facebook to be entered for a chance to win. If you follow this link to our Pinterest page and repin our Hot Cocoa Gift Pak, you will also be entered to win!
https://www.pinterest.com/rainydayfoods/discounts-giveaways/
Contributed by Angelia Kunz