Treats can be so yummy, but sometimes they're needed at inconvenient times.  Recently this was the case at our home.  Needless to say, I was so happy I had all of the ingredients on hand in my pantry.  This reaffirmed to me the importance of storing food.  Even if you're not into storing emergency items like wheat, rice and beans, you might want to think about storing basic pantry items.  What a relief it is to be able to make something without making a trip to the grocery store for that one missing ingredient.   At Rainy Day Foods you can stock up on flour, powdered sugar, baking powder, baking cocoa, powdered milk, butter powder, and powdered eggs.  All of these were in the recipes for the treats I needed to make.  I love that you can get larger sizes of these items; larger sizes mean less shopping and less money spent in the long run.  And who doesn't want to save money?  One note:  I did not use the powdered eggs, butter or milk in these recipes.  However, it's nice to know that if I had been out of these refrigerated items, I could still make these treats.  Here are the recipes:
[caption id="attachment_2154" align="alignleft" width="150"]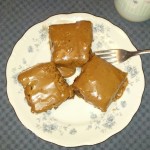 Brownies[/caption]
Brownies:
8 eggs               1 lb. butter                    ½ c. baking cocoa              4 c. sugar              
4 c. flour                                                                                                          
Mix together.  Pour into large cookie sheet.  Bake at 350 degrees for 30 min.
Frosting:  
¼ c. butter         3 T. baking cocoa       ½ c. milk      4 c. powdered sugar
Mix together.  May need to add more powdered sugar to get right consistency.       
Sunburst Lemon Bars
Crust:     2 c. flour       ½ c. powdered sugar         1 c. butter, softened
Mix ingredients together on low speed until crumbly.  Press mixture evenly in bottom of ungreased 9x13 pan.   Bake at 350 degrees for 20 to 30 minutes until lightly browned.
Filling:    4 eggs, slightly beaten     2 c. sugar      ¼ c. flour    1 tsp. baking powder  
¼ c. lemon juice
In large bowl, combine eggs, sugar, flour and baking powder, blend well.  Stir in lemon juice.  Pour mixture over warm crust.  Return to oven and bake 25 to 30 minutes or until top is light golden brown.  Cool completely.
Glaze:      1 c. powdered sugar       2 to 3 T. lemon juice
In small bowl, combine powdered sugar and enough lemon juice for desired glaze consistency.  Blend until smooth.  Drizzle over cooled bars.  36 bars. 
[caption id="attachment_2155" align="alignleft" width="150"]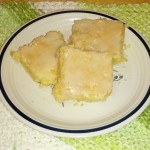 Sunburst Lemon Bars[/caption]