I have to admit I was nervous to try sour cream powder.  We use a lot of fresh sour cream in our cooking and I was concerned about how the powdered would stack up.  I tried it tonight for the first time in a stroganoff and found it comparable to fresh.  I mixed it according to the directions on the can, but it seemed too runny.  I would definitely change the ratio.  Also I was expecting a very strong aroma but never did get it.  So how did it taste?  My kids told me they couldn't tell the difference. My husband, who is very picky, prefers the fresh.  I personally thought it tasted a little different from the fresh but it was still very good.  To sum it all up, if you want to save money (and who doesn't), use the powder.  Another good thing is the shelf life of powder.  Fresh sour cream only stays good for a couple of weeks and the powder will keep longer than that.   As I researched this, I found that people keep sour cream powder on hand to use in a lot of foods such as casseroles, soups, sauces, and breads.  They enjoy adding a tablespoon or two of it without reconstituting it to get that sour cream taste.  Also because it's acidic, it helps breads to rise better.  Other food items that Rainy Day Foods carries that could be used in my stroganoff recipe are:  chopped onions, butter powder, flour, salt, garlic granules, black pepper, mushroom slices, canned hamburger, and egg noodles.
Here is the recipe:
[caption id="attachment_1130" align="alignright" width="225"]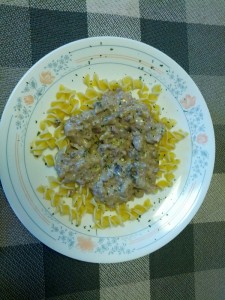 Stroganoff[/caption]
1 ½ lb. hamburger
1 onion, chopped
¼ c. butter
2 T. flour
1 tsp. salt
1 tsp. garlic salt
¼ tsp. pepper
8 oz. pkg. mushrooms
8 oz. sour cream
2 cans cream of chicken soup
Cook hamburger and onion in butter.  Stir in flour, salt, garlic salt, pepper and mushrooms.  Cook, stirring constantly, 5 minutes.  Stir in soup.  Heat to boiling, stirring constantly; reduce heat.  Simmer uncovered 10 minutes.  Stir in sour cream, heat through.  Serve over 6 cups cooked noodles. Makes 12 servings.
Contributed by Pam Higley