[caption id="attachment_1794" align="aligncenter" width="484"]
Super bowl with dehydrated brownies![/caption] [caption id="attachment_1798" align="alignleft" width="300"]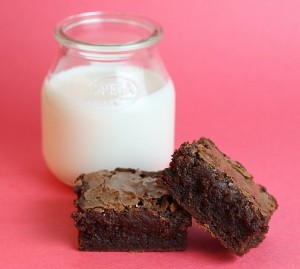 brownies[/caption]
Let's say it's a half hour before kickoff, and you're looking at your Game Day Display of foods—at one end of the dinner table, you've got your freshly smoked ham steaming next to your bowl of baked beans. You've got your perfectly cheesy scalloped potatoes freshly out of the hot oven and placed perfectly next to a big bowl of golden corn kernels. If you didn't know any better, you'd think you were about to sit down to the annual family Christmas dinner again. Marveling at your day long labor of love, you look over to your snack table. There's an abundance of various potato chips and corn chips surrounded by an array of chip dips. You've got your pretzels, your pork rinds, your jerky sticks, yet you can't find anything to satisfy your sweet tooth.
It's now twenty-five minutes to kickoff, and your family's starting to gather from who knows where to the couch right in front of the television. You can hear your sons arguing about whether it's the offense or the defense that makes a great team. Your husband's on his phone checking the stats of each player from his favorite team. That's when your sweet little girl comes up to you and asks you if she can help you make a dessert. "What? A dessert," you think to yourself in a bit of a panic. "There's only twenty-five minutes before the highly anticipated game of the year starts! I don't have time to make a dessert!" But instead you smile sweetly at your precious daughter and say, "Alright, sweetheart, let's see what we can find."
Quickly you search through your cupboards to see if you can find a chocolaty something that's faster to get through than the half time show. All of a sudden as if a light bulb flashed on and showed a "LOOK HERE" sign, you see hidden in the furthest part of your cupboard a Christmas gift of Rainy Day Foods Brownie Mix**. Having never tried it before, you think, "Well it's chocolate, so let's see how it is." You tell your daughter to grab a mixing bowl while you turn the can around and start reading the instructions: "Preheat oven to 350 Degrees. Pour 4 ½ cups of brownie mix into a mixing bowl and slowly add ¾ cup hot water. Don't over mix. Bake in a rectangular-sized cake pan for twenty-five minutes." While opening the can with your electric can opener, you can't help but think, "Really? Is it really that simple?? Well if it's that simple, then there's no way it tastes any good." Your daughter mixes the batter just as instructed, and then you pour it into the pan and place it into the reheated oven. Praying to yourself to please be delicious, you both stroll into the living room to join the boys.
It's now ten minutes 'til game time. The whole family is wound up and ready for a great game between two incredible teams! You and your one son are rooting for the home team while your husband and other son are cheering for the competitors. Just then the buzzer goes off and your daughter shouts, "It's ready! It's ready! Our yummy dessert is ready!" You take them out of the oven and tell your family to sit at the table for the pre game meal. Between each bite you can't help but wonder if those brownies are going to be any good. You hope to keep the happy spirits up with a delicious dessert, but what if it doesn't taste good at all? Everyone has almost finished their meal, so you excuse yourself to grab the pan of mystery. "They smell good, dear," your husband says cheerfully. Your sons are drooling at the mouths. Your daughter is beaming with smiles as she waits patiently to taste her creation. "Now," you think, "the moment of truth…" Everyone has their piece. It's being examined by each member. It goes into their mouths…and…SUCCESS!!! "Wow mom! These are the best brownies I've ever had" "Me too!" "Wow dear! Where did you score this secret recipe?" That's when you just grin from ear to ear and share the look with your daughter of total secrecy. The timing couldn't be any more perfect as you hear that wonderful announcement coming from the TV, "Are you ready for some FOOT BAAAAAAAAALL!!
Contributed by Angelia Kunz
[caption id="attachment_2089" align="alignleft" width="300"]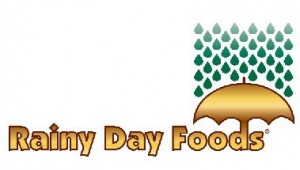 rainy day foods logo[/caption]
Want to test this product out for yourself?  
Visit our homepage at
check out our other mixes[/caption]