Tonight I made a casserole with a wonderful food storage item:  freeze dried cheese.  Last week I tried it in my soup; I simply sprinkled a handful into the crockpot and it reconstituted as the soup cooked.  It was very easy and tasted good in the soup, so I wanted to see how it would work in a casserole.  I used a recipe that I make all the time and only changed the cheese.  It was a big hit. The directions say to add an 1/8 cup warm water to 1 ½ tbsp. of cheese and let it stand for 10 minutes.  I drained off the excess water, sprinkled it on the casserole, and baked for 25 minutes.  It looked and tasted just like regular cheese and the whole family enjoyed it.  It even looks and tastes good right out of the can.  I used the Sharp Cheddar Cheese in my casserole, but Rainy Day Foods also carries Colby, Monterey Jack and Mozzarella in #2.5 and #10 cans.  They also sell a cheese pack that has all four of these cheeses in the #2.5 cans.  These cheeses could be used in soups, casseroles, macaroni and cheese, chili, salads, or pizzas.  I plan on keeping this in my storage now that I know that it tastes good and works well in recipes.
[caption id="attachment_2208" align="alignleft" width="225"]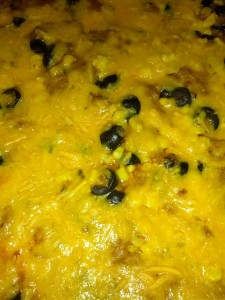 Tamale Casserole[/caption]
Here is my recipe for Tamale Casserole:
2 15oz. cans Tamales
2 8oz. cans tomato sauce
1 15oz. can whole corn, drained
1 large can sliced olives
1 ½ lbs. ground beef
1 cup grated cheese
Remove tamales from can; remove papers from tamales.  Mash them with a potato masher in a bowl.  Add corn and olives and mix together.  Set aside.  Brown burger in frying pan and add tomato sauce. Put beef in baking pan then layer tamale mixture on top.  Sprinkle with cheese.  Bake at 350 degrees for 25 to 30 minutes.
 contributed by Pam Higley