[caption id="attachment_1149" align="alignright" width="300"]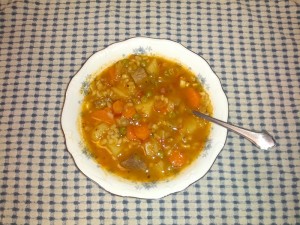 Barley Beef Stew[/caption]
It has been so cold the past few days, so I decided we needed some soup to warm us up.  We had one of our family favorites:  Vegetable Beef with Barley.  We've been making this for years and the whole family loves it.  My kids always want the bowl that has the most barley in it.  We all love the nutty flavor and the chewy texture.  Pearl Barley is a healthy high-fiber, high-protein grain.  It is also high in iron and low in fat.  It has many health benefits.  It reduces the risk of coronary heart disease, Type 2 diabetes, and colon cancer, and can lower your cholesterol.  It is most commonly used in soups or stews, but can also be used in stir-fry or curry; even in barley pilaf.  Some people like to eat it as a hot cereal with milk and honey.  You can use it like you would use rice or couscous.  Rainy Day Foods carries Pearl Barley in a #10 can, 6 gallon bucket or 25# bag.   Other items they carry that you could use in my recipe are:  beef bouillon, tomato powder, carrot slices, chopped onions, garden peas, sweet corn, potato dices, cabbage, and beef chunks.
Here is the recipe:
1 lb. stew meat
½ cup rinsed barley
2 T. olive oil
5 T. Worcestershire sauce
10-14 cups water
1 finely chopped turnip
6 cubes beef bouillon
1 small can V-8 or tomato juice
2 cans diced tomatoes
¾ c. peas
2 cups sliced carrots
¾ c. corn
1 cup diced onions
4 sliced potatoes
1 cup sliced cabbage
Brown stew meat in olive oil and season.  Add water and bouillon to taste.  Add tomatoes, carrots, onions, cabbage, barley, Worcestershire sauce, turnip, and tomato juice.  Cook till crisp tender, then add corn, peas and potatoes.    This makes about 12 servings.
Contributed by Pam Higley