Here is a simple recipe that makes pasta night a little more interesting.  This cheesy  sauce is a healthy twist on regular alfredo, and the beans add protein and a creamy texture to the pasta.  Use grated parmesan cheese for the most authentic alfredo  flavor, or substitute your favorite freeze-dried cheese. I like mozzarella, but cheddar or colby could turn your pasta into a healthier "mac-and-cheese."  This recipe is a tried-and-true favorite in my house, so now I've started to try new things with it every time I make it -- this week I added a few jalapeño peppers to the sauce! It was very spicy at first, so I poured in some heavy cream after processing to thin the sauce and tone down the heat.  This sauce stores well in the refrigerator for a few days, just be sure to warm it up before pouring it over your pasta.
[caption id="attachment_1729" align="alignleft" width="224"]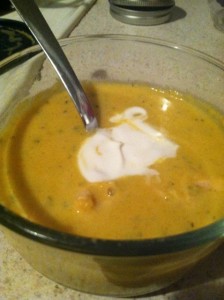 White Bean Pasta Alfredo[/caption]
 Ingredients:
2 cups cooked small white beans
1/2 cup parmesan cheese or 1/2 cup  freeze dried cheese of your choice
2/3 cup powdered milk  + 3/4 cup water
1 1/2 tsp garlic powder
1 pound pasta of your choice
Directions:
Bring a pot of water to boil over high heat, cook pasta. In the meantime, place beans, cheese, powdered milk, water, and garlic powder in a food processor and blend until smooth. Transfer to a small saucepan and cook over medium heat, stirring frequently. Drain pasta, and return to pot. Pour cheese sauce over the pasta and stir until the noodles are well coated. Serve immediately.
Tips and Notes:
I like to cook large batches of beans at one time, then divide into 1-cup or 2-cup portions and store them in the freezer for weeknight dinners.  Defrost in the microwave or in the refrigerator prior to use.
Reduce the amount of water if you like thicker sauces - you can always add more after the first spin in the food processor.