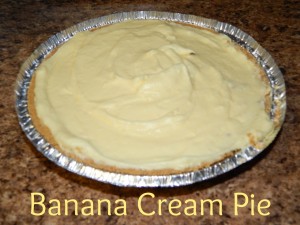 Banana cream pie is a family favorite in my household! It's sweet, simple, and makes for a perfect dessert for any occasion! Where it is such a quick dessert to make, we try to be prepared by having a graham cracker pie crust, a can of whip topping, and a can of instant banana pudding handy for when we're craving banana cream pie.
Using all the rainy day foods, we start by making a batch of whip topping. This simple recipe is a 1-to-1 ratio: for one cup of whip topping mix, add one cup of ICE cold water. For the banana cream pie, we will only need about one cup, so use half a cup of whip topping and half a cup of ice cold water. Whip them together on low speed for one minute, then on medium speed for three minutes, and finally on high for five minutes. Chill for two to four hours before using.
[caption id="attachment_2542" align="aligncenter" width="300"]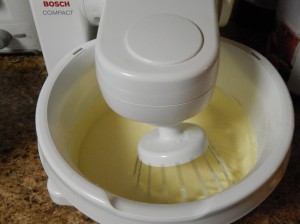 mix the whip topping[/caption]
Once the whip topping is set up, it's time to make the banana pudding. In a medium bowl, mix one cup of banana pudding mix with two cups of cold water. Stir until the powder is dissolved and the mixture starts to take on the pudding consistency.
[caption id="attachment_2543" align="aligncenter" width="300"]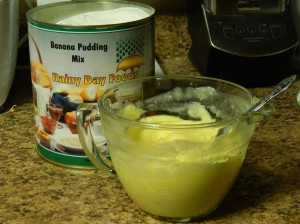 mix the banana pudding[/caption]
Mix together the banana pudding and the whip topping.
[caption id="attachment_2544" align="aligncenter" width="300"]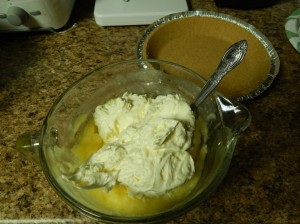 combine the whipped topping and pudding[/caption]
Pour into the graham cracker crust. Refrigerate for about an hour before serving, then enjoy!
[caption id="attachment_2545" align="aligncenter" width="300"]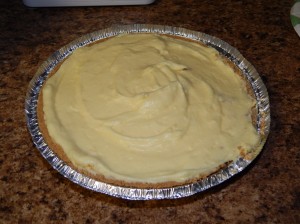 Delicious Banana Cream Pie![/caption]
Contributed by Angelia Kunz