Summer is finally here and that means firing up the grill at our house.  One of our favorite meals to fix is Chicken Pasta Alfredo.  I like to use the curly egg noodles that come from Rainy Day Foods.  You can get them in a 6 gallon bucket, 10 lb. box, or #10 can.  We use these quite often so I always keep a bucket or two on hand.   I simply boil them in water for 5-6 minutes, drain, and add them to whatever dish I am making.  These noodles are so versatile that I use them in casseroles, soups and stroganoffs.  This recipe is very easy which I like for those busy summer nights.  Here it is:
Wash and Grill any or all of these items: 
1 Red Pepper
1 Green Pepper
1 Red Onion
1 package Mushrooms
1 Zucchini Squash
1 Yellow Crookneck Squash
2 or 3  Boneless Chicken Breasts
(leave everything whole or in big pieces for cooking; slice after cooking)
[caption id="attachment_2177" align="alignleft" width="300"]
meat and vegetables[/caption]
Cook 6 cups Noodles and toss with a little olive oil.
Alfredo Sauce recipe:
¾ c. butter
2 c. half and half
1 c. grated Parmesan cheese
1 T. parsley flakes
Salt and Pepper to taste
Heat butter and half-and-half over low heat until butter is melted.  Stir in remaining ingredients; keep warm over low heat.  Pour over noodles, vegetables, and chicken.  Enjoy.
[caption id="attachment_2178" align="alignleft" width="225"]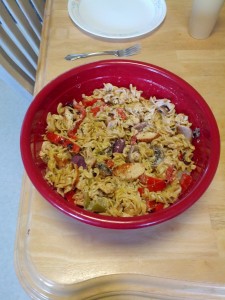 Chicken Pasta Alfredo[/caption]
Contributed by Pam Higley