[caption id="attachment_1689" align="aligncenter" width="300"]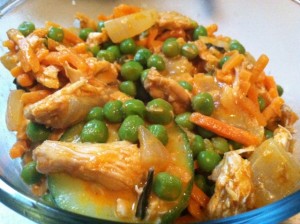 thai curry[/caption]
I love Thai food, but I rarely eat it because restaurants are pretty expensive where I live.  I was too intimidated by the complex flavors to try cooking it at home.  Enter coconut curry -- simple enough for a weeknight but with a taste that will knock your socks off. This dish comes together quickly, freezes well, and the flavor is exotic without being overwhelming. The mild coconut milk balances the spicy curry to create a sauce that the whole family will love -- even my coconut-hating husband enjoys this meal!   Let's all try to push our boundaries a little and try something new in the kitchen this week, while still learning to cook with food storage.
Ingredients:
1 Tbsp fat of your choice (oil, butter, etc)
2 cups freeze dried diced chicken
1/2 cup chopped onions
2 Tbsp red curry paste
1 cup coconut milk
2 cups mixed vegetables (Rainy Day Foods mix has peas, carrots, corn, and green beans)
Directions:
Rehydrate the chicken, the onions, and the mixed vegetables according to package directions. Heat oil or butter in a large skillet over medium heat. Add the diced chicken and cook until brown. Remove chicken to a plate and set aside. Add onions to pan, and sauté until brown and soft. Add the chicken back to the skillet, and stir in the curry paste. Pour in the coconut milk and mixed vegetables, stir well, and increase the heat to high. Once mixture is bubbly, reduce heat to medium and simmer for 10 minutes.  Garnish with fresh cilantro or basil, and serve over white rice or steamed vegetables.
Tips and Notes:
You can find curry paste and coconut milk at most grocery stores - check the  Asian section of the international aisle.
If using fresh chicken, heat it to an internal temperature of at least 165F to ensure thorough cooking.
For those of you with special dietary needs, this meal is gluten, soy, and dairy free.
contributed by Kate Wilt