"Food fatigue" can be a serious problem when you're living off of your food storage.  When you eat the same thing day after day (plain rice and beans, for example) you can get so tired of your meals that you want to stop eating entirely. This is why it's crucially important to learn new ways to cook with your food storage -- plus, it's fun! This lentil walnut loaf uses a mix of food storage items and spices to make a tasty, nutritious lunch or dinner. Serve warm with mashed potatoes and more veggies, such as steamed green beans or roasted broccoli.
[caption id="attachment_2196" align="alignleft" width="300"]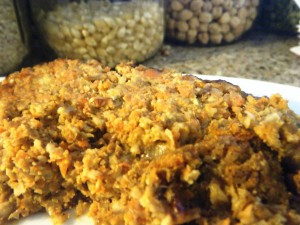 Lentil Walnut Loaf[/caption] [caption id="attachment_2197" align="alignleft" width="300"]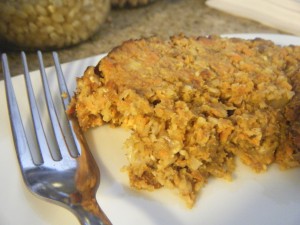 Lentil Walnut Loaf[/caption] [caption id="attachment_2198" align="alignleft" width="300"]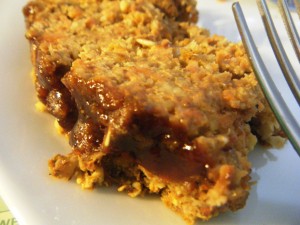 Lentil Walnut Loaf[/caption]
Ingredients:
Veggie loaf:
1 cup dry lentils
1 pound carrots (fresh or re-hydrated), diced
1 medium yellow onion or 1.5 cups dehydrated onion, diced
1 Tbsp minced garlic
2 cups rolled oats, divided
2 cups walnuts
2 Tbsp tomato powder
1 tsp salt
1 tsp pepper
1 tsp cumin
Glaze:
4 Tbsp ketchup
2 Tbsp maple syrup
2 Tbsp balsamic vinegar
Directions:
Rinse lentils and place in medium pot. Add 3 cups water, and bring to a boil over high heat. Reduce heat to medium and simmer until lentils are tender, about 30 minutes, then drain. Preheat oven to 350F. Place lentils, carrots, onion, garlic, 1 cup oats, and walnuts into a food processor and blend until a paste forms. You may need to do this in batches. Scrape lentil mixture into a large bowl and add the tomato powder, salt, pepper, cumin, and remaining 1 cup oats. Stir together until evenly mixed. Transfer to greased or nonstick loaf pan, set aside. In a small bowl, mix ketchup, maple syrup, and balsamic vinegar. Spread glaze over the lentil loaf and place pan in oven. Bake for 45 minutes or until crispy and brown.
Tips and Notes:
Leftover slices of lentil loaf are great additions to sandwiches and salads.
Walnuts can not store for too long in your pantry, they'll go rancid after about 6-8 months. Store them in small quantities, rotate them often, and keep them in your refrigerator or freezer to extend their shelf life to a year or more.
Contributed by Kate Wilt