Contributed by RL
[caption id="attachment_2862" align="alignleft" width="150"]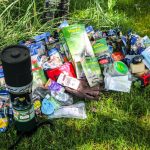 Deluxe 2 person 72 hour kit[/caption]
And what a month it has been! Volcanic eruptions, typhoons, hurricanes, earthquakes, fire, flooding and drought all rolled up into our national preparedness month. Do we know when to pick a preparedness month or what!
The Carolina's are still trying to clean up from Hurricane Florence and the misery that it brought. (https://www.cnbc.com/weather-and-natural-disasters/)
Before all this, disaster/emergency happens, while we are still nice and comfortable and the world is right and sunny we need to make a plan. No not about what we are going to do Friday night or where we are going to go on vacation and not a plan on how to finance college or trade school nor a shiny new car not to mention retirement. (We should have a plan for these as well because like it or not they come.) We need a plan to help us when things go wrong so our families know we have a way to handle the gas line explosion that closes the neighborhood, the snow storm that just keeps coming, the power outages, flooding, wind, job loss and the list goes on.
Of course it all depends on where we live, if we live near an ocean, the open plains, or in the mountains each local area has its own special things that can happen as far as natural disasters are concerned so we need a plan. (https://www.ready.gov/kids)
I remember a Bear Lake Blizzard one time that came in while I was at work. Everyone was calling to let us know that the road was getting closed down and visibility was horrible. The wind was just howling and the snow was making for white out conditions. One of our fellow co-workers headed home because he had dairy cows that could not milk themselves and if he did not get home there was no one to tend to their needs. The rest of us finished closing down the plant and got ready to leave when the phone rang and our co-worker called and said that the road was blocked just outside of town at a place called Ovid and he had to get a neighbor farmer to take him to his dairy with his tractor. He called because two of us also live in the same area as he does (about a 10 minute drive on a normal day) so we called our homes and found that they could not see anything but white snow out of the windows. But our co-worker said the drifts were almost impassable for a tractor so we probably would not get home. So seeing that I love to stay at work I called my uncle in Ovid to see if I could borrow his snow machine to get home. He said that would be alright but it was pretty hard to see. So that is what I did, I rode home on a snow machine over snowdrift after snowdrift. The children were pretty restless during the night with the wind and all but they drifted off to sleep while we watched over them. By early morning the storm had blown itself out and while we waited for the county snow crews to come we started digging out the car and truck, some of the drifts were as high as the car. Digging snow sure built up an appetite, so my wife made buttermilk pancakes for all of us to enjoy for breakfast, you know the good kind that look like ducks and dinosaurs and a few chocolate chips added. The children had a ball helping make them. It took until late afternoon before the county snow rotary was able to clear the road that we live on so that vehicles could get about. (Normally the roads are cleared with snow plows but since the snow was so deep they had to use the rotary to blow the snow off the road. The children thought it was a big hoot when the snow hit the house from the rotary although my wife was not impressed with the chunks hitting the windows. But nothing got damaged.) All of this is why we always carry an emergency kit in our outfits during the winter because you never know. It is not fun being stuck in a snow drift during one of these storms.
For our homes we should have a 3-day supply of non-perishable food, water (at least a gallon per person, per day for drinking), fire extinguisher, battery-powered or hand-cranked radio and extra batteries, flashlights, first aid kit, sleeping bags, emergency heating and cooking and for children games, puzzles and books to keep their minds engaged instead of thinking of what could happen during a severe storm or disaster. Lets not forget prescriptions and pets during all of this confusion. For that is what it is confusion; when it happens, you will not think of everything that needs to be done at that instant, so that is why you need a plan.
Write it down, Review the plan and have it where you can get it when it's needed. Then PRACTICE that plan!
You remember back in school when we use to have fire drills and we all had to leave the building in an orderly fashion or when we had the earthquake drills and we had to get under the desks? Of course there is going to be confusion when things happen, there always is and will be, that's why we practice so we can get most of what we need to do done.
Does each family member know who to call when an emergency strikes if you are not there? Do they know where to go for safety if they cannot get home? What if they cannot get in contact with the designated family member for help; who is the back up? Do our vehicles have a emergency kit always ready to go in them? Are these kits reviewed once a year? Does each family member know where our emergency food is stored and how to prepare it in a time of emergency if there is no power or services in our homes? You know you may not be at home when things go wrong so each family member who may be home needs to know the basics of how to cook, the basics of first aid, how to stay warm, how to get help. Practice. It is good for all of us, we may even learn something new. Rainy Day Foods has a great selection of food storage and emergency preparedness items with special prices on select items every month. ( https://rainydayfoods.com/) This gives us all a chance to stock up on powdered eggs, milk, flour and other basics like rice, wheat, oatmeal, buckwheat. They even have quinoa and spelt.
Just remember when disasters strike the first line of defense rests on us. Be prepared. 'Til next time. RL