[caption id="attachment_1814" align="alignleft" width="292"]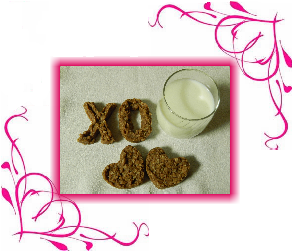 unbaked cookies[/caption]
UNBAKED COOKIES
As you may know, we are already into February, which means Valentine's Day is coming up fast! (Unless you go into some of the stores, then you would think St. Patrick's Day and Easter is here, too) If you plan on baking something special for your loved ones, but haven't decided what to do yet, try these easy-to-make No Baked Cookies. These are the perfect treat to satisfy that need for something chocolaty, something peanut buttery, and something you can talk yourself into thinking it is healthy, on account of the oats mixed in it.

Start by mixing two cups of sugar, two tablespoons of cocoa baking powder, a half cup of milk, and a half cup (one stick) of softened butter into a large, microwave-safe bowl. The butter does not have to be blended smoothly yet.
Cook the mixture in the microwave for two minutes. Once the microwave has bellowed, stir the mixture slightly, and return it to the microwave. Repeat this process three more times. Once that last session is over, cook for one more minute, making sure to supervise the microwave to prevent your mixture from bubbling over and escaping the bowl.
[caption id="attachment_1815" align="aligncenter" width="300"]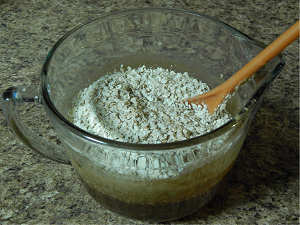 mixing the cookie dough[/caption]
Once the concoction has been cooked a total of nine minutes in the microwave, stir in one teaspoon of vanilla extract, a half cup of peanut butter, and three cups of quick oats.
 Be cautioned that this concoction will be hot!
Roll out a sheet of waxed paper (aluminum works, too) onto a clean counter top. Spoon out the mixture as big as you would like your cookies to be. For Valentine's Day, I let my batch cool for only a moment and then spooned the mixture into some fun cookie cutters. If you use the cookie cutter method, let them cool a little before removing the cutter to do the next cookie.
[caption id="attachment_1816" align="aligncenter" width="279"]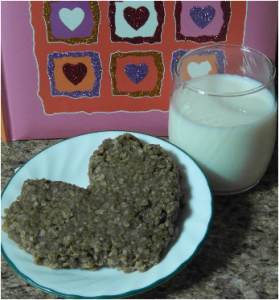 cookie[/caption]
This takes a little bit longer to do, but they sure look cute! ENJOY!!
HERE IS THE PRINTABLE RECIPE:
[caption id="attachment_1817" align="aligncenter" width="600"]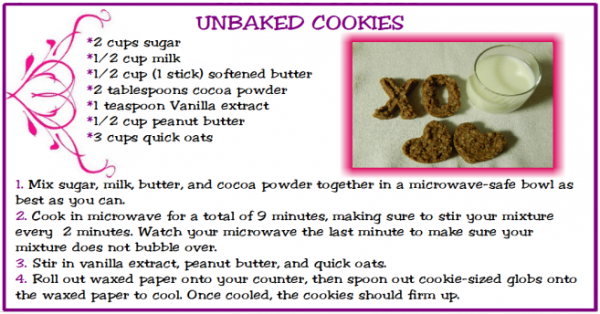 unbaked cookie recipe[/caption]
Contributed by Angelia Kunz
Like how these turned out? Let us know!
Have any questions about this recipe or any of our products, please feel free to comment here or on Facebook, and we will get back to you!
This link will take you to our several of the products used in this recipe:
http://rainydayfoods.com/products/cooking-baking.html