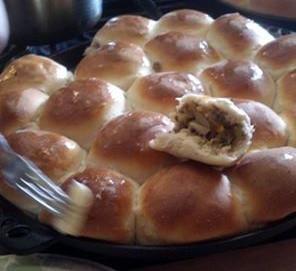 Baking with family can be the best therapy for a cold day.   We made meat filled biscuits just like my mom used to make and her mother before her.   It was satisfying  to eat but a boost in strengthening family and memories.   So easy and versatile.
[caption id="attachment_1932" align="alignleft" width="296"]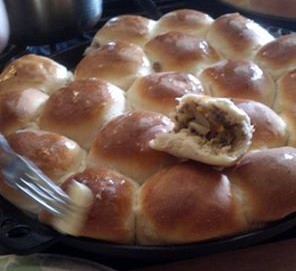 Save Time white bread meat biscuits. Delicious![/caption]
[caption id="attachment_1939" align="alignleft" width="296"]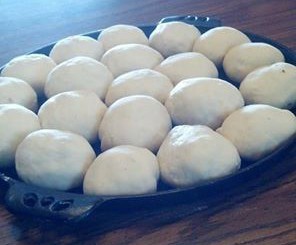 Cabbage biscuits raising-
Oh the waiting!![/caption]
You can make these with any bread dough.   For a simple bread dough try using our "Save Time White Bread".   After dough has risen measure a loaf size ball-(about 1 lbs. 12 oz.)  and roll into a rectangle about ½ inch thick.   Cut into squares.   Place a tablespoon of meat filling on center.
Pull up sides and pinch off to seal.   Place sealed side down on a greased cookie sheet and allow to rise about 25 minutes.   Bake at 350 degrees for 25 minutes until golden brown.    Eat warm with country gravy or just as a biscuit.  Great for breakfast biscuits as well.   We used dough for 2 loaves of bread for 1 large pan of biscuits.
Meat fillings:
 Cabbage-use dehydrated or raw  about 3 cups reconstituted
Ground beef-try the Signature meat or use freeze dried ground beef.  About 1 lbs. If using fresh be sure to brown first.
Chopped onions-about ½ cup dried onions or 1 small fresh onion.
Salt and pepper to taste.
Drain off excess liquid.
Other ideas-
Taco meat with cheese
Sausage meat with scrambles egg.
Ham and broccoli and cheese.
Pizza meats and sauce.
Be sure to take advantage of the savings being offered-30% off the Save Time white bread mix and free shipping on our Rainy Day Foods freeze dried ground beef!!