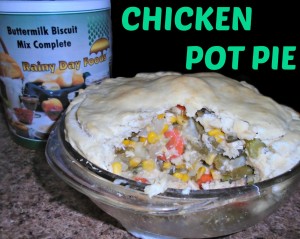 It's a new year, which means it's time for a new start! What a great time to refresh and restock your food storage! If you don't have a food storage supply, now is a great time to start! It's ideal for emergency preparedness, but it also comes in handy for those days when you just don't feel like going to the grocery store. Having a food storage comes in handy if you are in the middle of a cooking project and happen to run out of a certain ingredient; it's nice to have a back-up supply just in case! The other nice thing about having a food storage supply is you can use it to make delicious and nutritious meals even when it's not an emergency! This Chicken Pot Pie is a perfect example! You can find every ingredient in your Rainy Day Foods food storage!
I started making this chicken pot pie by cooking some chicken in a frying pan with about 2 cups of water and 2 teaspoons of chicken bouillon. While you're at the oven, preheat the oven to 425 Degrees. (Feel free to use 2-4 teaspoons of gluten-free chicken bouillon and a small can of precooked, boneless chicken from your food storage supply!)
[caption id="attachment_2616" align="alignleft" width="150"]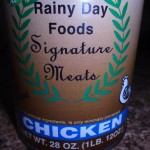 Signature Meats Boneless Chicken[/caption]
Next make the breading using Rainy Day Foods buttermilk biscuit mix. If you plan on doing a deep dish pot pie like I did, use 4 cups of buttermilk biscuit mix with 1 cup of milk. If you want to use a normal pie pan, use only 2 cups of buttermilk biscuit mix and ½ cup milk. I mixed the two ingredients together in my amazing Bosch compact mixer with the dough hook attachment, but you can use a regular mixing bowl and spoon if you don't have one.
[caption id="attachment_2617" align="alignleft" width="150"]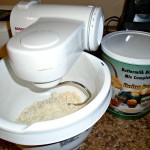 Mix the biscuit dough[/caption] [caption id="attachment_2618" align="alignleft" width="150"]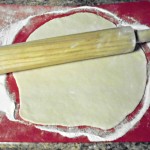 Roll out the dough[/caption] [caption id="attachment_2619" align="alignleft" width="150"]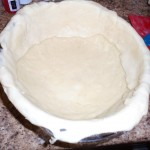 place rolled out dough in bottom of pie pan[/caption]
Roll out about ¾ of the dough until it is big enough to completely line the inside of your greased and floured pie pan.
If you are using fresh veggies, now is the time to chop them. But if you want to save yourself a lot of time, just reconstitute your desired proportions of freeze-dried vegetables from Rainy Day Foods, such as super sweet corn, green beans, garden peas, and potato dices.
[caption id="attachment_2620" align="alignleft" width="150"]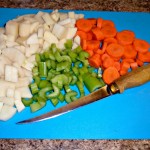 chop up fresh vegetables[/caption] [caption id="attachment_2621" align="alignleft" width="150"]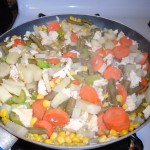 combine ingredients in frying pan[/caption]
Next chop up the chicken.
Once everything is in smaller pieces, combine in a frying pan 1 teaspoon of chicken bouillon and 1 cup of water. Once all the chicken bouillon powder is dissolved, add all your chicken meat and vegetables. Stir until everything is warm and there is no more liquid.
[caption id="attachment_2622" align="alignleft" width="150"]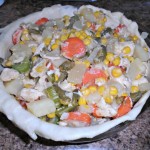 fill the pie pan with the chicken and vegetable mixture[/caption] [caption id="attachment_2623" align="alignleft" width="150"]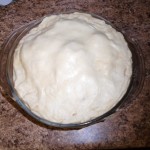 make a top crust and place on pie[/caption]
Once ready, fill your dough-lined pie pan.
With the remaining dough, roll it out and put it on top, pinching the two edges of dough together, sealing in the veggies and chicken.
Cook for 12 minutes until the bread is a light, golden brown.
[caption id="attachment_2624" align="aligncenter" width="300"]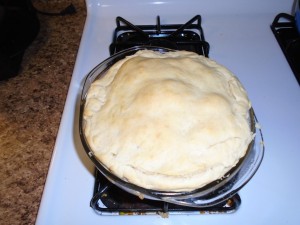 Delicious Chicken Pot Pie!![/caption]
Gather everyone around the table and enjoy!
Contributed by Angelia Kunz