I've made cornbread for my family from a mix but never really used cornmeal before so I thought I would try it.  Cornmeal is a kind of flour that is made from ground sweet corn. After grinding it, you will sometimes see black specks in the cornmeal.  These are safe to eat. It comes in yellow, white, blue or red varieties, depending on the kind of corn used.  Steel ground yellow cornmeal has the husk and germ almost completely removed.  Stone-ground cornmeal retains some of the hull and germ making recipes a little more nutritious and flavorful.  Fine and medium cornmeal is usually mixed with wheat flour to create a crumbly texture in baked goods.  Coarsely ground cornmeal is frequently labeled polenta or grits.  It is also sometimes labeled as maize flour.  Cornmeal is gluten free and a good source of B vitamins, iron, carbohydrates and protein.  It can be used in many different ways e.g. hot cereal, coating for meat, fish or chicken, as a substitute for flour in breads, muffins, pancakes, pizza crust and desserts.  You can replace up to half the flour with cornmeal in a recipe.  If you have an ant problem you can set out a plate of cornmeal.  Since they can't digest it, they will carry it off as food, eat it and die. Rainy Day Foods carries yellow cornmeal in a #10 can, 6 gallon bucket and 50 lb. bag.  I decided to make some corn muffins and they turned out great.  My family really loved them. 
[caption id="attachment_2129" align="aligncenter" width="300"]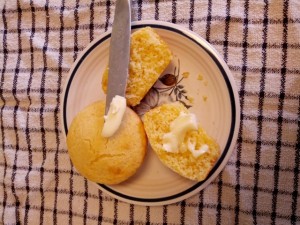 cornbread muffins[/caption]
Here is the recipe:
1 c. flour
1 c. cornmeal
2 to 4 T. sugar
1 T. baking powder
½ t. salt
2 beaten eggs
1 c. milk
¼ c. cooking oil or shortening, melted
Stir together the flour, cornmeal, sugar, baking powder, and salt.  Make a well in the center of the dry mixture and set aside.  In another bowl combine the eggs, milk, and cooking oil or shortening.  Add egg mixture all at once to dry mixture.  Stir just until moistened.  Spoon batter into greased muffin pan.  Bake at 425* for 12 to 15 minutes or till brown.  Makes 12 muffins.
*You can add all kinds of things to these such as: cheese and green chili peppers, carrot, zucchini, sour cream, lemon, honey, pumpkin, blueberries and hot dogs.
Contributed by Pam Higley