There's a good chance that shepherd's pie, or "cottage pie," will bring a different dish to mind for almost every reader of this blog post. The shepherd's pie that I ate while growing up was made of beef and gravy with the classic mashed potato "crust," but there are now many, many variations to this theme.  The meat can be beef, mutton,  turkey, pork (or anything that tickles your fancy), there can be vegetables or no veggies (or all veggies!), and the potatoes can be layered on top or mixed throughout the dish. This version is my recent favorite -- it incorporates veggies into the meat mixture, which lowers the overall cost per serving.  To further lower the costs, and make this a very storage-friendly recipe, try beef TVP or the vegetarian option listed in the tips below.
Ingredients:
Filling:
1/4 cup dried onions
1/3 cup freeze dried carrot
1/3 cup freeze dried corn
1/3 cup freeze dried peas
1 Tbsp butter or other fat
1/2 lb to 1lb ground beef or beef TVP
Beef gravy (from powder, jarred, or homemade)
Topping:
1/2 Tbsp butter
1/4 cup milk, reconstituted from powder
3/4 cup very hot water
1 cup + 3 Tbsp potato flakes
Directions:
Preheat oven to 400F. Rehydrate the vegetables according to the package directions (skip this step if using fresh veggies).  Melt the butter in a large skillet over medium heat, and add the onions. Cook until tender. Add carrots, corn, and peas.  Add beef or TVP, and continue heating and stirring until cooked through. Add beef gravy slowly until the mixture reaches your desired consistency - I prefer a moist pie, so I add about a cup of gravy. Remove from heat and allow to thicken slightly. In the meantime, make the mashed potatoes: mix together butter, milk, and hot water, slowly stir in potato flakes, then let stand.  Lightly coat a 9x13 baking dish with cooking spray or oil. Transfer your meat and gravy mixture into the bottom of the dish, and flatten it out with a utensil. Spoon the mashed potatoes into a layer on top of the beef. Place in preheated oven and cooked until the potatoes are brown and the beef mixture is bubbling, or about 30 minutes. Allow to cool. Serves 6-8.
Tips and Notes:
If using fresh carrots, add them with the onions to allow them time to soften. I used potato flakes for the mashed potatoes, but I tried this with potato dices as well and had satisfactory results. The potato flakes removed the step of having to mash the potato dices, so I prefer them for this dish.
For a vegetarian option, replace the beef with an equal volume of lentils.  Lentils have a meaty texture that is good in hearty dishes.
Make sure the mashed potatoes develop a nice brown color by using the broiler setting for the last 5 minutes of baking.
Contributed by Kate Wilt
[caption id="attachment_1612" align="alignnone" width="150"]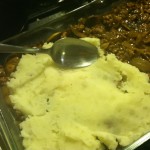 shepherds pie step 1[/caption] [caption id="attachment_1613" align="alignleft" width="150"]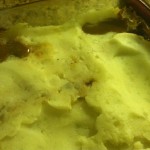 shepherds pie ready to bake[/caption] [caption id="attachment_1614" align="alignleft" width="150"]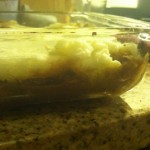 Shepherd's Pie[/caption] [caption id="attachment_1615" align="alignleft" width="150"]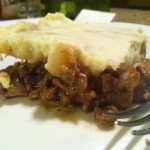 Shepherd's Pie serving[/caption]