Fall is in the air and that means it's soup time at my house.  One of the ingredients I use in my soups is chicken bouillon that I get from Rainy Day Foods.  They sell it in a #2.5 can or #10 can.  This bouillon is made by adding a ½ teaspoon of it to a cup of hot water.  I like that it gives my soups added flavor and you don't have to use a lot.  You could also use it in gravies, stews or casseroles. Another idea would be to use it to flavor vegetables when cooking them.  Because it stores so well, I like to keep plenty of it on hand.  I made chicken noodle soup this time.  Other products that Rainy Day Foods carries that I could have or did use in it are:  chicken, milk, carrots, celery, onion, potatoes, flour, butter powder, eggs, and salt.  It's good to know that even though I used fresh ingredients for this soup, I could still make it with only food storage items.  Here is my recipe:
[caption id="attachment_2122" align="aligncenter" width="300"]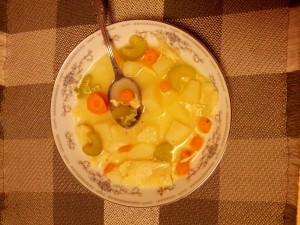 chicken noodle soup[/caption]
Chicken Noodle Soup
15 c. chicken broth (made with 7 ½ tsp. bouillon and 15 c. water)
1 c. milk
2 c. cooked chicken
1 c. carrots, sliced
1 c. celery, sliced
1 onion, sliced
½ tsp. marjoram
½ tsp. garlic salt
3 potatoes, sliced
salt & pepper to taste
2 Tbs. butter
Homemade Noodles
1 ½ tsp. salt
3 c. flour
4 eggs
1 ½ Tbs. vegetable oil
4-8 Tbs. cold water
To make noodles:  Place flour and salt in a large bowl; make a depression in the center and add eggs and oil.  Gradually stir in flour from the edges adding water, one tablespoon at a time, until flour is moistened enough to form a ball.  On a lightly floured surface knead for 2 minutes or until smooth.  Form into a ball.  Cover with a bowl and let rest for 10 minutes.  Roll out on a clean, floured surface.  Roll very thin and let dry for at least 2 hours.
To make soup:  In a large kettle combine broth, chicken, milk, carrot, celery, onion, garlic, marjoram, salt and pepper.  Cook over medium heat until vegetables are crisp-tender.  Add potatoes and noodles.  Cook until potatoes are fork-tender.  Stir in butter and serve.
Contributed by Pam Higley