[caption id="attachment_2673" align="aligncenter" width="300"]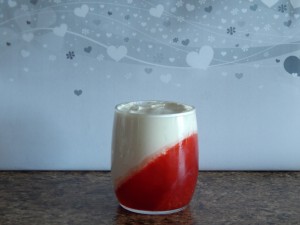 Strawberry Gelatin[/caption]
This strawberry dessert is very simple to make and makes for a sweet treat for anyone. For the gelatin, I followed the written instructions on the product, which equaled 2-3 servings, but it's easy to adjust for however many servings you want to make. This strawberry gelatin is a 1-to-3-to-3 ratio, calling for 1 part gelatin mix, 3 parts hot water, and 3 parts cold water. The whip topping is a 1-to-1 ratio, calling for 1 part whip topping mix and 1 part ice cold water.
[caption id="attachment_2674" align="alignleft" width="150"]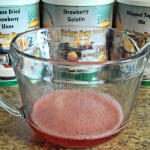 mix the gelatin[/caption]
For this dessert, make the gelatin according to however many people you intend on serving it to. Here, I used 1/3 cup of gelatin mix, 1 cup of hot water, and 1 cup of cold water. Start by boiling the hot water. I just cooked the water in the microwave for about 10 minutes. Next, add your gelatin mix. Whisk by hand until all the mix is dissolved.
[caption id="attachment_2675" align="alignleft" width="150"]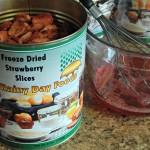 add freeze dried strawberries[/caption]
If you want, you can add some freeze-dried sliced strawberries into your dessert for some added fun! If you choose to, this is the time to add them in.
The next step is to add the cold water. Whisk again for about a minute, then refrigerate until it sets up. A fun trick to do for a single serving is to fill a clear glass half full of the gelatin before refrigerating, but store the half-full glass at an angle, so the gelatin sets up as shown here. That way, there's more room to evenly add some whip topping.
[caption id="attachment_2676" align="alignleft" width="150"]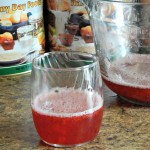 pour into glass or dish[/caption] [caption id="attachment_2677" align="alignleft" width="150"]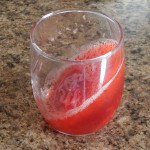 refrigerate and chill until set[/caption]
[caption id="attachment_2678" align="alignleft" width="150"]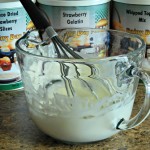 make the whipped topping[/caption]
While the gelatin sets up, make the whip topping equivalent to the same amount of servings as the gelatin. For me, I filled the ½ cup measuring cup up with crushed ice, then filled it with cold water—enough to add some liquid to the ice chunks, but not enough to overflow the measuring cup. My madness behind this is that the ice will melt as you whip it together with the water and powder, giving you about one cup of water required, but minimizing the chill time. Pour the ice-water into a mixing bowl, and add about 1 cup of the whip topping powder. Whisk by hand gently until all the powder is dissolved, then whisk continuously for 5 minutes, or until a nice "whipped" texture.
Place the whip topping into the fridge until chilled. If you do the ice, it seems to take anywhere from half an hour to an hour off the chill time; depending on how much you make.
Once everything is set up and chilled, take your gelatin out of the fridge, and top with the whip topping. For a fun decoration, you can top it all off with a sliced strawberry that resembles a heart. The freeze-dried strawberries are nice and soft, so you can use your fingers or a butter knife to enhance the shape of the strawberry to be a heart.
[caption id="attachment_2679" align="aligncenter" width="300"]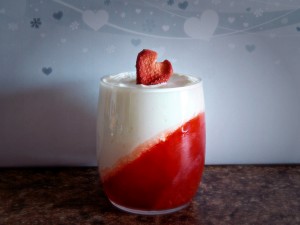 A delicious and pretty dessert!![/caption]
Contributed by Angelia Kunz