Is there anything more summery and festive than strawberry shortcake?  This dish combines my favorite food - strawberries - with a slightly sweet biscuit that doesn't overpower the natural flavor of the strawberries. I'll be making this for my family on the 4th of July and many more times throughout the summer. Strawberry season ends in mid June where I live, but freeze dried strawberries give you the freedom and flexibility to enjoy this shortcake year-round. The Rainy Day Foods biscuit dough also reduces the amount of preparation time as compared to regular shortcake, allowing you to spend more time with your family and less time working in the kitchen.
Ingredients:
Strawberry topping:
1 cup freeze-dried strawberries
3 Tbsp white sugar
Shortcake:
3 cups buttermilk biscuit mix
3 Tbsp white sugar
3/4 cup cold
milk
, reconstituted from powder
Directions:
Preheat oven to 425F. Rehydrate your strawberries in boiling hot water (or juice, see note below). Add sugar and set aside. Mix together the buttermilk biscuit mix with white sugar, then mix in the cold milk. Stir with wooden spoon, then turn out onto lightly floured surface and knead until dough is fairly homogenous. Form dough into large rectangle and bake as one large cake, or form into biscuits and bake on slightly greased cookie sheet. Bake for 10 minutes until firm. Serve with strawberries and whipped cream, if desired.
Tips and Notes:
Rehydrate your strawberries in store-bought strawberry juice instead of water for an extra boost of flavor.
Bake the shortcake dough in small ramekins or muffin tins to make single-serving portions. I layered shortcake and strawberries in a mason jar for portability.
[caption id="attachment_2162" align="alignleft" width="150"]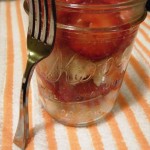 Strawberry Shortcake[/caption]
[caption id="attachment_2163" align="alignleft" width="150"]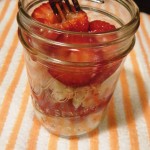 Strawberry Shortcake[/caption]
Contributed by Kate Wilt