Do you ever crave seasonal foods well after they've come and gone from the grocery store? Peppermint bark is something that I could eat all year long, but I only buy it at Christmastime.  Pumpkin treats are another holiday specialty that I enjoy in every season, so I always stock up on canned pumpkin puree when it's on sale in November.  These pumpkin muffins are fairly healthy and will tide you over until the cooler months.  Enjoy them warm from the oven with a small pat of butter, or eat one for breakfast on your way to work.
Ingredients
1/2 cup milk, reconstituted from powder
3 eggs  (fresh or from powder)
1 cup pumpkin puree
3/4 cup white sugar
1 Tbsp molasses
2 1/4 cups flour
2 tsp baking powder
1 1/2 tsp baking soda
1 tsp pumpkin pie spice or cinnamon
[caption id="attachment_1525" align="alignleft" width="300"]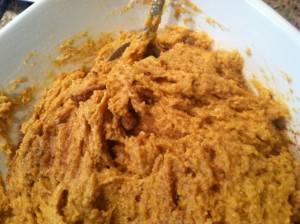 pumpkin muffin batter[/caption]
 Directions
Preheat oven to 350F. Mix milk, eggs, pumpkin puree, sugar, and molasses in a large bowl. Stir in flour, baking powder, baking soda, and pumpkin pie spice until fully incorporated. Divide batter evenly into 12 muffin cups. Bake for 20-30 minutes, until tops of muffins are firm.
Yield: 12 muffins
Tips and Notes:
Add more sugar if you prefer a sweeter muffin.
Feel free to add raisins, chocolate chips, walnuts, or other desired mix-ins.
[caption id="attachment_2181" align="alignleft" width="300"]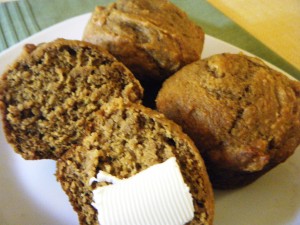 Summer Pumpkin Muffins[/caption]