My grandmother makes the world's best rice pudding. She always made it for me when I was home sick from school and needed a warm treat to restore my health. It's amazing that I didn't try to skip more school just for an excuse to indulge in this delicious custard. It wasn't until college that I realized that rice pudding is not very common, at least not anymore. I meet very few people who have heard of it, much less eaten it! It remains a favorite in my house, though of course Grandma's pudding will always be the gold standard. My rice pudding is very similar to grandma's original recipe - I don't use raisins and I add cinnamon after baking, instead of at the beginning - but I encourage you to try your own modifications and make this recipe your own. Make it for a friend, child, or grandchild the next time they need some extra love!
[caption id="attachment_1713" align="aligncenter" width="224"]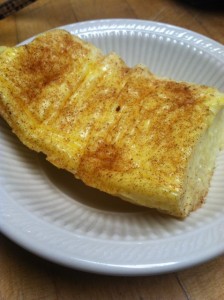 rice pudding[/caption]
Ingredients
6 eggs
3 cups milk
1/2 Tbsp vanilla extract
Directions
Cook rice in 1 cup water, set aside. Preheat oven to 350F. Lightly beat the eggs in a large bowl. Add the milk, sugar, vanilla, and salt. Stir in rice, then pour mixture into a 9x13 baking dish. Place casserole dish in a larger pan of water, then place the pan and dish in the oven. Bake for 30 minutes, then stir the pudding to stratify the rice. Bake for another hour. Remove casserole dish from the water bath, and cool for 10-15 minutes. Sprinkle with cinnamon and serve warm or chilled.
Tips and Notes
Don't skip the water bath - it helps modulate the heat transfer from the oven to the custard so the custard cooks evenly. Try to select a pan large enough so that the water bath comes to within 1/2 inch of the top of the casserole dish.
Customize this recipe by adding citrus zest, different extracts, cocoa powder, or even coffee! Leave a comment below with your flavor ideas.
Contributed by Kate Wilt