[caption id="attachment_2280" align="aligncenter" width="212"]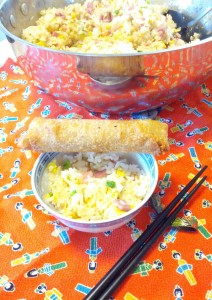 Ham Fried Rice[/caption]
My family really loves to eat Chinese food so quite often I make Ham Fried Rice. It is very quick and easy to make for those hectic days we are all too familiar with. You can even use some of your food storage items in it. Here is the recipe:
HAM FRIED RICE
8 cups of cooked rice - You could use white or brown rice, but I prefer white.
[caption id="attachment_2276" align="alignleft" width="150"]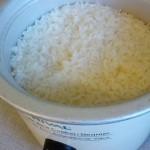 cooked rice in a rice cooker[/caption] [caption id="attachment_2277" align="alignleft" width="150"]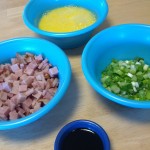 ingredients[/caption]
1 cup cubed ham*
1 bunch of green onions, chopped
5 eggs, scrambled**
*You could use Freeze Dried Ham. Just add 1 cup water to ¾ c. Ham to rehydrate it.
**You could use Ova Easy Eggs. Just add 10 tsp. mix to 15 tsp. water to rehydrate them.
Note: I have seen people put corn and peas in their rice. You could use Freeze Dried Corn and Freeze Dried Peas by rehydrating them in some boiling water. Rainy Day Foods Teriyaki Sauce Mix could also be added for variety.
In a pan, brown the ham in a little oil. Add green onions. Scramble the eggs in a separate pan then add them to the pan with the ham and onions. Slowly add the cooked rice and about 2/3 c. soy sauce. Mix well and serve.
[caption id="attachment_2278" align="alignleft" width="150"]
cooking the ham and onions[/caption] [caption id="attachment_2279" align="alignleft" width="150"]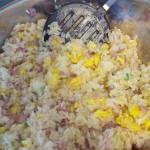 add the rice to the mixture[/caption]
Contributed by Pam Higley