Hearty, hot soup during the summer?  It makes sense if you work in an air-conditioned office and need something to warm you up at lunchtime!  Chock full of broccoli, potatoes, and cheese, this chowder is filling on its own or delicious with a cool salad on the side. It also freezes well, so make a large batch and put some away for the autumn months.
[caption id="attachment_2158" align="alignleft" width="150"]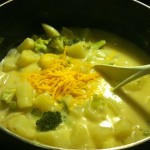 Broccoli Potato Chowder[/caption] [caption id="attachment_2159" align="alignleft" width="150"]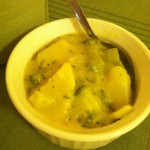 Broccoli Potato Chowder[/caption]
Ingredients:
3 cups water
1/4 tsp paprika
1/4 tsp pepper
1/4 cup freeze-dried
onion
4 fresh potatoes OR equivalent amount of dehydrated
potato dices
Directions:
Heat water in large soup pot over medium heat. Whisk in cream soup mix until the lumps have dissolved. Add paprika, salt, pepper, and bouillon. Whisk to combine. Add celery, onion, and potatoes. Bring soup to a boil, then reduce heat and simmer for 15 minutes, or until the potatoes are soft. Turn heat to low, add broccoli and cheese. Stir until cheese has melted, then remove from heat and serve. Yield: approximately eight 1-cup servings.
Tips and Notes:
Garnish the soup with more cheese before serving.Be sure to use potato dices, not potato flakes - the texture of the dices is better for soup.Add at least 1/2 cup additional water to the soup if using primarily freeze-dried ingredients. Continue to add water until desired consistency has been obtained.
Contributed by Kate Wilt