[caption id="attachment_2646" align="aligncenter" width="300"]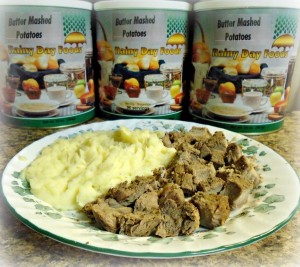 Butter mashed potatoes make a delicious side dish![/caption]
Here at Rainy Day Foods, we package all of our products with our customers in mind. We strive to distribute delicious and nutritious meals that will come in handy not only in emergency situations, but also for everyday use. We like to pride ourselves on giving our costumers' their money's worth when it comes to buying our products. We fill our cans with as much product as possible*. A perfect example is our butter mashed potatoes.
[caption id="attachment_2647" align="alignleft" width="150"]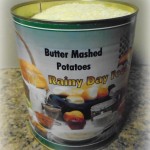 butter mashed potatoes not reconstituted[/caption] [caption id="attachment_2648" align="alignleft" width="150"]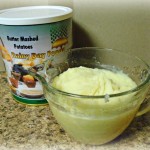 reconstituted butter mashed potatoes[/caption]
These are a great addition to any meal and take but a few minutes to make. Simply heat 3 parts water and 1 part of the butter mashed potato flakes and just like that you've got a scrumptious side dish! They pair great with any meal, especially meat! Easy to make and delicious to taste!
*SOME SETTLING MAY OCCUR
Contributed by Angelia Kunz