It's reunion time at our house and that means pot-luck dishes and feeding extra people.  I always like to take a tried and true recipe to these gatherings.  I also like to experiment a little.  That's why I made my favorite chocolate sheet cake with something I've never tried before:  buttermilk powder.  I also decided to be really daring by serving huckleberry pancakes with homemade buttermilk syrup.   Buttermilk powder is made from real buttermilk that's been concentrated with an evaporator and dried, either through spraying or rolling.  It is made with real buttermilk not cultured skim milk as liquid buttermilk is.  Because of this, it does not contain the live cultures needed to produce cheese and yogurt.  This means it doesn't contain lactic acid, making it suitable for those who are intolerant to lactose.  It can be used in any recipe calling for buttermilk, such as waffles, breads, scones, cakes or biscuits.  Rainy Day Foods carries buttermilk powder in a #2.5 can, #10 can, and a 50lb. bag.  Simply mix the buttermilk powder with the other dry ingredients and then use water to supply the necessary liquid.  You should use 4 tablespoons of powder and a cup of water for every cup of buttermilk needed.  How did everything turn out?  Wonderful!  The cake was as good as it is with liquid buttermilk and the syrup was a big hit.  One note:  Buttermilk powder can be used only in baking; it is not meant for drinking.  Here are the recipes:
[caption id="attachment_2148" align="alignleft" width="150"]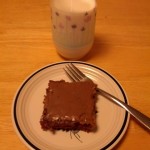 chocolate cake[/caption]
Chocolate Sheet Cake
2 c. flour
2 c. sugar
2 cubes butter
4 Tbs. cocoa
1 c. water
½ c. water
2 eggs
1 tsp. baking soda
1 tsp. salt
1 tsp. vanilla
2 Tbs. buttermilk powder
Sift together flour, sugar and buttermilk powder.  In saucepan combine butter, cocoa and water.  Bring to a boil.  Pour over dry ingredients while hot.  Stir together.  Add eggs, soda, salt, and vanilla.  Mix well.  Pour into a cookie sheet pan.  Bake for 20 minutes at 350 degrees.
Frosting:
1 cube butter
6 Tbs. milk
4 Tbs. cocoa
3 c. powdered sugar
1 tsp. vanilla
Bring butter, milk and cocoa to a boil.  Remove from heat and add powdered sugar and vanilla.  Pour on cake while still hot.
[caption id="attachment_2149" align="alignleft" width="150"]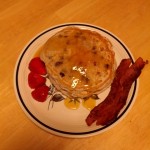 buttermilk syrup[/caption]
Lanette's Buttermilk Syrup*
1 ½ c. sugar
¾ c. buttermilk
½ c. butter
2 Tbs. corn syrup
1 tsp. baking soda
Mix all of this together.  Bring to a boil and boil for 7 minutes stirring often.  Add 2 tsp. vanilla.  Serve.
*Lanette says her family likes to eat this on ice cream as well as pancakes.  I can see why.  It's really good.        
Contributed by Pam Higley