We have made some changes to the way we charge for shipping costs on orders.
For orders up to 300 pounds, we have implemented a flat rate shipping cost for every 50 pounds ordered. The rate does vary depending on your location. To find out the flat rate shipping cost for your location, simply add an item that weighs up to 50 pounds in your shopping cart and then click the link to view your shopping cart. On the shopping cart page, you may enter your state and zip code and the site will provide you with a shipping quote. That is the rate you would be charged for every 50 pounds you order up to 300 pounds. Orders up to 300 pounds will usually ship either UPS Ground or Federal Express. If you have a preference for either one, you may enter that in the comments section of the order form. We will be offering a separate flat rate for orders that weigh up to 2 pounds. These orders may ship via postal service, UPS Ground or Federal Express. Orders up to 2 pounds will ship for a flat rate cost of $9.99. The flat rate shipping is only available in the contiguous United States and does not apply to orders shipping to Alaska, Hawaii and Canada.
Orders that are over 300 pounds will be handled a little differently than they have been in the past. The website will not quote shipping for these orders. Once you have submitted your order and we have received it in our system, we will obtain shipping quotes for your order for both LTL freight shipping and UPS ground shipping. Once we have received the quotes from our various brokers, we will subtract a percentage of your order subtotal (total of products only) and subtract it from the actual amount quoted and we will then send you an email with this discounted shipping rate. The discount percentage will vary depending on the size of your order. This shipping quote will come in a separate email and it may take up to 1 -2 business days for us to receive quotes from the multiple brokers we check with to get the cheapest rate available for your shipment. We try to send the shipping quote within one business day, but larger orders may take a little longer. Please make sure your email is able to receive messages from info@rainydayfoods.com. We have noticed that sometimes our emails may be automatically sent to Spam folders, so if you don't see an email from us with the shipping quote within 2 business days, please check your spam folder or call us at 208-847-3357 or 208-847-2683 to check on the status of your order. Once you receive your quote, you can call us to confirm the shipping cost and provide your method of payment – credit card, check or money order, or, if requested, we can invoice you through PayPal for the total cost of the order including shipping.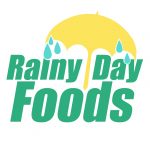 When you place your order on our website, you will see a new shipping option that allows you to pick up your order at our local address. This option is available for all orders. For this option, you would be picking up your order at our address: 24377 US Highway 89, Montpelier, Idaho 83254. You would be able to pay for your order when you pick it up and may receive a discount on your order at that time. So although you have the option to pay when you place your order, to receive the additional discount we recommend that you wait and pay when you pick up the order. We suggest this only because once you enter your credit card information online, we cannot access to make changes to your order. Local pick up orders can also be placed over the phone and the discount can be calculated before you provide your payment over the phone.
We hope these changes are not too confusing and would be happy to answer any questions you may have. Our contact information is at the end of this post.
As always, you are welcome to call or email us with any questions you may have about products, shipping or other concerns you may have. We appreciate your business and look forward to doing business with you in the future.
Telephone: 208-847-3357 or 208-847-2683
Email: info@rainydayfoods.com
Store Hours:  8 a.m. to 5 p.m. Mountain time, Monday through Friday