[caption id="attachment_2361" align="aligncenter" width="225"]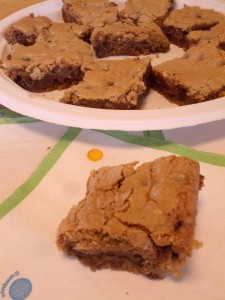 Congo Bongo Bars[/caption]
It's that time of year when you are going to reunions and family get-togethers. Of course they always involve a lot of food. If you are like me, you want something delicious to take but easy to make. Here is a yummy bar cookie that fits the bill. I don't know why they are called Congo Bongo Bars; that is what I've called them since I was little. Here is the recipe:
Congo Bongo Bars
Melt 2/3 cup butter. * You could also use 2/3 cup Butter Powder mixed with 2/3 cup water.* Add 2 c. Brown Sugar and let sit for 10 minutes.
[caption id="attachment_2362" align="aligncenter" width="225"]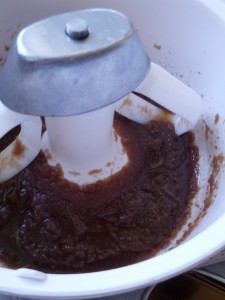 mix the butter and brown sugar[/caption]
Add: 3 eggs or 6 Tablespoons Whole Eggs mixed with 12 Tablespoons water and 1 tsp. vanilla.
Stir in: ½ tsp. Baking Soda 1 tsp. Salt 2 2/3 cups Flour
[caption id="attachment_2363" align="aligncenter" width="225"]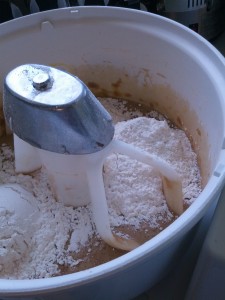 add the dry ingredients[/caption]
Mix well and add 1 cup chocolate chips.
[caption id="attachment_2364" align="aligncenter" width="225"]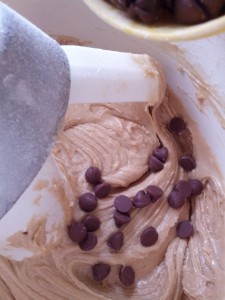 add chocolate chips[/caption]
The mixture will be thick. Spread it in a 9 x 13 pan. Bake for 25 minutes in a 350 degree oven. May serve warm or cool. They are delicious either way!
[caption id="attachment_2365" align="aligncenter" width="225"]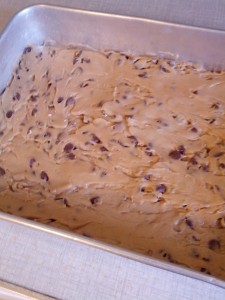 spread mixture into pan and bake[/caption]
Contributed by Pam Higley