Here is the recipe for the quiche that I made for my Easter brunch. I made a crust-less quiche for health reasons, but I have included a crust recipe below for those of you who may be interested. A store-bought crust would also be fine. I used spinach and onions in my quiche, but the filling options are endless! Imitation sausage would be a terrific choice, as would ham, bacon, mushrooms, or your own favorite combination of meat and vegetables.
[caption id="attachment_1154" align="alignright" width="300"]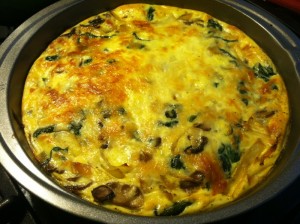 Crustless Quiche[/caption]
Ingredients for the crust:
1 cup flour of your choice
1/2 tsp salt
5 Tbsp butter
Up to 1/4 cup milk, reconstituted from powder
Directions for the crust:
Combine flour and salt in medium bowl. Cut the butter into the flour mixture. Slowly add milk, stirring the dough the whole time. Gently mix  the dough with your hands. Place dough on floured surface and roll with floured pin to 1/4 inch thickness. Transfer to prepared pie plate.
Ingredients for the filling:
4 Tbsp OvaEasy crystals mixed into 6 Tbsp water (or 6 fresh eggs)
1 1/2 cup milk, reconstituted from powder
1 1/2 cups baby spinach, chopped
1 medium onion, diced
3/4 cup shredded mozzarella cheese
Directions for the filling:
Preheat the oven to 400F. Mix eggs, milk, salt, and pepper in a large bowl. Press homemade or store-bought crust, if using, into a pie plate  Place spinach, onion, and 1/2 the cheese in the bottom of the plate and cover with egg mixture. Top with remaining cheese. Bake for 40 minutes until eggs have set and cheese is golden brown. Yield: 8 servings.
Tips and Notes:
Do not substitute butter powder for the fresh butter in the crust recipe -- the texture of the final product will not be the same.
You can test out new freeze-dried meats and vegetables with this recipe. You do not need to rehydrate these ingredients, just add a little extra water or milk to the egg mixture to compensate.
I used shredded mozzarella cheese that I had on hand, but other cheese varieties would work too. If you try freeze-dried cheese, please leave a comment below and tell me how it turned out!
Contributed by Kate Wilt