[caption id="attachment_2455" align="aligncenter" width="400"]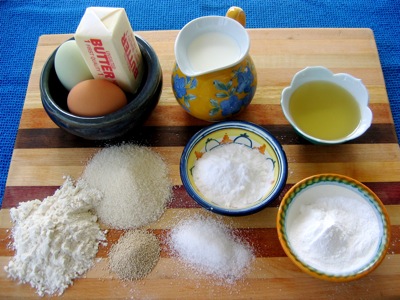 Some basic cooking ingredients[/caption]
National Preparedness Month is almost over and we have made a great start in getting more prepared by storing the basics: grains, beans & legumes, pasta, rice and vegetables. Now that we have some basic foods, we need to add items that enhance the flavor and make these basic foods a delicious meal. Cooking aids (such as baking powder, baking soda, and cornstarch), spices, and seasonings and gravy mixes will add flavor and variety to basic foods to make delicious meals from food storage supplies.
Most cooking aids and seasonings will store at least ten years – many will store up to twenty years. Gravy and sauce mixes add great flavor to pastas and rice dishes. Spices such as cinnamon, garlic, and other seasoning mixes add that extra boost of flavor to main entrée recipes and even some desserts. Don't forget to include the basic seasonings: salt and black pepper. Even when there are no other spices or seasonings on the shelf, salt and pepper will add flavor and enhance the flavor of your food. Check out our special this week on cooking aids and spices – this is a great time to add these important items to your food storage supply.
http://rainydayfoods.com/special-offers/cooking-aids.html
Try this delicious recipe using some of your food storage ingredients:
[caption id="attachment_2456" align="aligncenter" width="250"]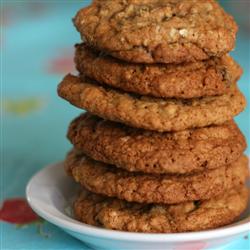 Oatmeal Raisin Cookies[/caption]
Oatmeal Raisin Cookies (recipe & photo retrieved from AllRecipes.com)
• 3 eggs, beaten (or you can substitute whole egg powder - see directions on can label)
• 1 cup raisins
• 1 teaspoon vanilla extract
• 1 cup butter (or substitute butter powder according to directions on label)
• 1 cup packed brown sugar
• 1 cup white sugar
• 2 1/2 cups all-purpose flour
• 1 teaspoon ground cinnamon
• 2 teaspoons baking soda
• 2 cups rolled oats
• 1 cup chopped pecans
Directions
1. Combine eggs, vanilla and raisins in a small bowl; cover and let stand for 1 hour.
2. Preheat oven to 350 degrees F (175 degrees C).
3. In a large bowl, cream the butter, brown sugar, and white sugar together. Sift together the flour, cinnamon, and baking soda; stir into the creamed mixture. Then stir in the raisin mixture, rolled oats, and nuts.
4. Drop by teaspoonfuls onto an unprepared cookie sheet. Bake for 10 minutes, or until lightly browned.