[caption id="attachment_1695" align="aligncenter" width="300"]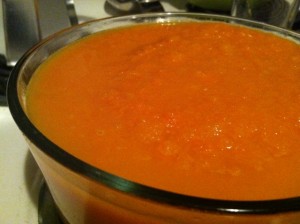 Golden Carrot Soup[/caption]
Do you love carrots as much as I do? This simple soup is flavorful and versatile enough to be made in any season. It's a refreshing appetizer when  served chilled in summertime, or it can be a warming side dish or light main course when served hot in the autumn or winter months.  The bright, beautiful orange color will make this soup the star of your table! This is an easy weeknight meal for me, I always make a double batch because the leftovers freeze extremely well.  The carrots are the star of the show, but don't skimp on the garlic or chicken bullion - they really enhance the flavor of the soup.
Ingredients:
2 tablespoons oil or butter
3/4 cup chopped onion
2 cloves minced garlic or 2tsp garlic powder
3 1/2 cups carrot dices, or peeled and chopped fresh carrots
4 cups water
4 tsp chicken boullion
Directions:
Rehydrate any freeze-dried or dehydrated veggies (onion, carrot dices). Heat the oil or butter in a large soup pot over medium heat. Add the onions and sauté for 5 minutes or so, until the onions are soft and fragrant. Add the garlic and carrot dices, and heat for another minute while stirring. Add the water and bullion, bring to a boil, then simmer for 20 minutes. Remove from heat. Transfer the soup to  a blender or food processor (see note below) and puree. Serve warm or chilled, with black pepper and a garnish of parsley.
Tips and notes:
Use caution whenever pureeing hot liquids - you MUST allow steam to escape from your blender or food processor, or you will have a soupy mess explode from your appliance!
Add a little grated fresh ginger along with the garlic if you want to add a unique spicy flavor that complements the carrots well.
Contributed by Kate Wilt