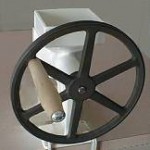 Introduction
Hand vs electric grinders
Types of grinders
Good and negative attributes of grinders
How to pick the right grinder for you

Purchasing the right grinder for your food storage and emergency preparedness is a big decision.  There are a lot of manual and electric grinders used every day, but many have been sold that have never ground a kernel of wheat. They are sitting in the back rooms of homes all over the country waiting for that time when they will be needed. When that time comes, many will be baffled or surprised at the capabilities of their grinder. All grinders are not created equal. With all the choices and the different  needs it can become confusing.  The information here will help educate you on the many aspects of the different manual and electric grinders. This will help you make a better choice on the right grinder for you.  Grain grinders come in many shapes and sizes. Some are large and bulky and some can be picked up with one finger. Some take a lot of work and others require only the flick of a switch. Because there is such a big difference between grinders, it is necessary to know what you expect from your grinder. After studying the information you will have a much better idea which grinder is best for you.

Hand or Electrically operated: Some consideration must be given to whether you will buy a hand or electric grinder, or both. This all depends on present circumstances, any preparations you may want to make for the future, and how often you plan on using your grinder.  Powered grinders are nice, fast, and work well with the quality of flour put out.  The drawback for electric grinders would be lack of power. The Country Living Mill can be motorized and be used either way.  Hand operated mills come with stones and burrs. Impact grinders must turn far too fast for manual operation. Hand grinders require some work.  Ease of turning and grinding would be a big plus in hand grinders.  For families that intend on using their grinder on a regular basis, they may consider an electric grinder for every day use, and a hand grinder for emergencies.

Grain grinders come in several basic types:  The next consideration should be the type of grinder you may need.  This also depends on the products you plan on grinding.   For grinding,  stones, burrs, carbon steel grinding plates and steel impact plates are the working part of the grinder.

Stone Grinders are the oldest type of grinder there is and was the only kind until only a few years ago. Stone grinders have two circular grinding stones. One stone turns against a stationary stone. Grooves are cut, radiating out from the center of the stone. These grooves diminish until they disappear towards the outer edges. When grain is ground, it falls through a channel into the center of the two stones. As the rotating stone turns, it pulls the grain out through the channels and is ground, with the flour falling out the outer edges of the two stones. A hundred years ago these stones were often two or three feet across, weighed hundreds of pounds and were turned by windmills or water wheels. In modern home grinders these stones are small, usually only about three inches in diameter. They are not natural stones like the grinders of yesteryear, but are made from very hard materials that will last a life time if used with care.

Favorable   Characteristics

Grinds finer than burr grinders.
Adjustable to any setting between cracked wheat and fine flour.

Unfavorable   Characteristics

Manual stone grinders tend to turn harder than manual burr grinders.
Stones quickly become 'loaded' if you try to grind oil bearing seeds.

Burrs are similar to stones except their grinding wheels are made out of steel.  These burrs are sometimes referred to as teeth in grinder advertisements. Burr grinders have some advantages and disadvantages over stone grinders. One advantage is that grinding dry grains as well as oil bearing seeds will not clog or "load up" on the burr.   The disadvantage is that it will not grind as finely as a stone grinder.

Favorable   Characteristics

Will grind dry grains as well as oil bearing seeds - wheels will not load up.
Adjustable to any setting between cracked wheat and fine flour.
Much safer machine if you are grinding grain that has not been completely cleaned of grain sized stones and small pieces of metal.
Should last for many years of normal use.
Generally turn easier than stone grinders.

Wonder Junior Hand Grain Mill Deluxe X026

For years hand grain mills have either been really cheap or really expensive. Unfortunately their ability to perform has been directly related to their cost. The cheap ones perform poorly and the expensive ones perform great. When this mill was designed they set out to create the best in hand grain mills. It is a versatile grinder with high quality at an  affordable cost to the homemaker. It will create super fine flour or coarse cracked grains for cereals. By simply swapping the stone heads for the stainless steel burr heads you can make delicious peanut butter or other nut butters. You can grind flax or any other oily or wet grains, you can grind herbs and spices, soy beans, and legumes and you can even grind fresh coffee. In all these applications you are assured to always have the perfect fresh nutritious ingredients for your family even if the power is out.
The whole mill is powder-coated making it safe to wash for easy clean up. The hopper is large and holds over one quart. The octagon shape of the hopper makes it easy to fill. One of the greatest features of the Wonder Junior is its heavy-duty patented double clamp. It attaches to tables or counters up to 2 inches thick. Once you clamp it down it never moves like other hand grain mills on the market that loosen up and shift around while turning the handle. The Wonder Junior Hand Grain Mill uses extra large lifetime lubricated bearings and it has a heavy base that can be bolted to any table or counter.  The Wonder Junior Hand Grain Mill is extremely easy to use. You simply load the easy-fill hopper, turn the handle, and you'll get flour. There are no small parts or gaskets to misplace. Cleaning the Wonder Junior is quick and easy.   There is  a limited lifetime warranty on the grinder and parts.  Burrs are lifetime but stones are 1 year.

Cost:  $219.95    X026

X024-Victorio Hand Mill Grinder-manual

The secret of the Victorio Grain Mill is in the milling mechanism.  The cone-shaped

grinding burrs are self-aligning, made of cast stainless steel, and are precision machined to insure long life and smooth, even milling.

The Victorio Mill grinds wheat, corn, rice, oats, barley, peppercorns, and other dry grains and spices.  This mill is adjustable for any desired texture from fine to coarse.

The Victorio Grain Mill will make about 1/2 cup of fine flour per minute and more than twice that quantity on coarse setting.  For very fine flour,  grains may have to be milled more than once.

The Victorio Grain Mill stores easily in a drawer or cupboard and is always handy when you need it.  Guaranteed for two years against defects in materials and workmanship.

Cost:  $68.30   X024

 Country Living Hand Grinder Z011

 This grinder is the Cadillac of grinders.  The Country Living Mill is solid I-beam construction from cast aircraft aluminum, double industrial sealed bearings, stainless steel shaft, and carbon steel grinding plates come together to make a rugged and durable mill, which is backed with a lifetime warranty.    Each mill, before leaving the factory, is tested by grinding some wheat to ensure that it is functioning properly.  If you are gluten intolerant you would need to request a different grain in testing.

This mill is designed to last for many lifetimes.  Now a fine hand mill that can actually out grind many of the electric mills by 10 to 15% and then out grind ALL electric mills by 100% when it really counts!  It is one of the easiest manual grinders to use.  The Country Living Mill will grind virtually all dry grains and legumes, including wheat, corn, beans, peas, amaranth, etc. It was designed to be quickly and simply motorized - no adapter kit necessary.

(All information taken from the manufacturer's pamphlet.)

V-Groove wheel for quick and easy conversion to electric motor.
Cast iron flywheel for easy turning and smooth flow of flour.
Large hopper holds 2 lb. of wheat.
Easy Dial - Self Locking Adjustment.
Double sealed industrial ball bearings.
Hand cast solid aluminum body.
30% less torque or energy required to turn than any comparable hand mill on the market.

This grain mill is designed to be easily motorized. The fly wheel is grooved for use with a standard V Belt. We recommend using at least a 1/3 HP motor rated at 1150 RPM and equipped with a 1 1/2" pulley. This ratio will produce about 115 to 120 RPM at the flywheel. Other motors may be used, but they will need to be geared so that the RPM at the flywheel does not exceed 120 RPM.

The motor and the mill should be securely fastened to a substantial surface. The mill handle must be removed before motorized operation. Never allow the mill to operate without grain being processed!!! Belt size may be determined by the distance the motor is mounted from the mill. Belt tension should not be excessive or bearing damage may occur.

Country Living Products warrants this mill to be free from defects in material and workmanship under NORMAL USE and conditions for a period of twenty (20) years which includes all parts, excluding the finish. The grinding plates are warranted for a period of one (1) year from the original date of purchase. This warranty is voided during this period if the mill is motorized, used other than recommended or for commercial use.

 Bean and Corn Auger
The auger that comes with the Country Living Mill resembles a large spring around the grinder drive shaft in the feed housing. This auger produces a minimum amount of drag on the crank wheel and is enough to move small seeds such as wheat through the feed chamber to the grinding plates or burrs. As the burrs themselves are designed for small seeds, the small grain auger that comes with the grinder doesn't adequately move large seeds through the mill in an efficient manner. For those of you who wish to grind larger seeds such as beans and corn, you'll need the larger auger designed for this purpose.

  To install the Bean and Corn Auger, remove the threaded coarseness adjustment knob by turning it counter-clockwise until it turns off the shaft. Slide the rotating burr off the shaft then remove the drive key from the groove in the shaft. Now slide out the grain auger spring. The Bean and Corn Auger comes with a spring that resembles the grain auger spring but is only half as long (not shown). After sliding the grain auger spring off the shaft, slide the Bean and Corn Auger spring on the shaft. Place one of the two drive keys into the groove of the shaft and slide it inside the feed housing until it contacts the spring. Slide the Bean and Corn Auger over the drive shaft, recessed end first, over the top of the spring. Ensure the auger's key way slides over the top of the just installed drive key. This locks the drive shaft to the auger, insuring they rotate together. Install a second key in the groove of the drive shaft and slide it down to the auger. Now, reinstall the rotating burr, insuring the key slides into the key way of the burr. Lastly, install the washers and the threaded adjustment nut. All of this takes maybe 2 minutes and is really a simple operation.

When grinding large seeds, you may first try increasing the gap between the burrs so there is as much as 1/8 inch gap between the plates. This will grind the beans into chunks. Then put these chunks through the grinder a second time with your burrs set to a fine setting. This will give you a nice, fine flour.

Cost:  $429.00    Z011

blades from impact grinders

Impact grinders use 'blades' placed in circular rows on metal wheels. One wheel turns and the other wheel is stationary like the manual grinders. But this is where the similarities end. When the two wheels are put together the rows of blades intermesh, running microscopically close, yet never touching the blades from the opposite wheel. The rotating wheel turns at several thousand RPM. As grain is fed into the center of the fixed wheel, the interaction between the two wheels 'impacts' the grain and literally pulverizes it into a fine powder as the grain works its way to the outside of the wheels. The K-Tech Grinder and the Wonder Mill both are impact grinders.

The Kitchen Mill is made of the highest quality materials.  The heart of the mill is a

patented, stainless steel milling chamber.  The mill is the most advanced way to mill grain.  It has all the advantages of the old stone mills but none of their problems.  There's no gumming, jamming or glazing.  It will not  overheat.  Each mill uses a 1.8 peak horsepower, 120 volt motor.  It is permanently lubricated and will provide years of trouble-free service.  It weighs 8 lbs and is 8" wide, 10" high, and 10" deep.

Warranty   Motor: 6 years (U.S.and Canada only)       Chamber & Pan: Lifetime

Made in the USA

The K-Tec Mill can grind up to 1.5 lbs of wheat per minute.  It sends the flour directly into a 60 oz. flour bin.  This will hold up to 10 cups ground wheat. When you're finished with it you can pick it up with one hand and put it in the cupboard. If you don't have 11 1/2 inches of shelf clearance, you can turn the grinder housing upside down and sit it inside the grinder's flour bin making it only 8 inches high. It can grind a variety of items-wheat, oats, rice, triticale, dried pinto beans, popcorn, split peas, buckwheat, rye, millet, soybeans, and whole corn.  Any item that exceeds 15% oil or moisture will gum up and block the mill.  Therefore it will not grind-spices, sugar, nuts, dried fruits, flax seeds, and coffee beans.  Coarsest setting makes flour with the consistency of corn meal.
The negative side of this mill is that it is quite noisy but considering the speed it can be overlooked.

Cost:  $185      X040

Imagine your favorite recipes made with the great taste of 100% whole grain goodness and all the nutrition from every grain. The Wonder Mill is the quietest and fastest flour mill available. You can create super fine flour or coarse flour at temperatures that preserve nutrients, ensuring that you will always have the perfect flour for your food.
The Wonder Mill has the capacity to perform big jobs. You can grind over 100 pounds of flour in an hour. You don't have to worry about overloading the Wonder Mill because of its large 1250 watt motor. The most powerful micronizing mill available. The Wonder Mill will not only grind wheat, rice and other small grains, but will also grind legumes and beans as large as garbanzos.
The Wonder Mill is extremely easy to use. Simply fill the hopper and you'll get flour. There are no small parts or gaskets to misplace, and cleaning the Wonder Mill is quick, easy, and virtually dust free.

A lifetime warranty is included with every Wonder Mill from the company who has been making this quality mill for over 10 years.

The Whisper Mill has an external flour catching bin with its own lid, should you choose to use it as your flour storage bin. The grinder itself  is 12 1/2 inches tall.

Cost:  $269.95  X091

Electric Impact Grinders

Favorable   Characteristics

Very small, light and compact.
Grinds very quickly.
Grinds grain into very fine flour.

Unfavorable   Characteristics

The blades are somewhat fragile: Small rocks or metal pieces can make the micronetic chamber eat itself! (K-Tec says their grinder will eat some small rocks but care should be taken in grinding). If you take care to only use well cleaned grain, these grinders will also last many years.
Noisy
Even on the coarsest setting the flour comes out relatively fine. These things won't give you cracked wheat.
Won't work without electricity.