Honey is the world's oldest sweetener, one of the few foods that will never spoil.  In its liquid form, honey is used to enhance all kinds of sweet and savory foods.  As you know, it is made by bees using nectar from flowers.  In ancient Egypt, honey was used to sweeten baked goods as it is today and also to embalm the dead and even to appease the fertility god, Min.  In Hinduism, honey is one of the five elixirs of mortality.  In the Jewish Rosh Hashanah celebration, apple slices are dipped in honey and eaten to ring in a sweet new year.  Honey and lemon together are great for respiratory ailments and sore throats.  Honey is said to be a natural antiseptic due to its tendency to absorb the life-sustaining moisture out of bacterial cell walls.  It attracts the dirt from skin pores and dead skin cells from the surface of the skin.  Therefore, some people use honey powder in healing salves, lotions, scrubs, soaps, and bath salts.
Powdered honey is made by drying liquid honey, and then breaking the sweet dried crystals into a fine powder. In powder form the consistency is much easier to maintain making it perfect for dry rubs and cake, cookie or bread mixes.  It is ideal for use in both hot or cold drinks or marinades in place of conventional sugar.  Sprinkle a little over salmon or a pork roast before baking, broiling or grilling for a nice sweet glaze.  You can also sprinkle it over hot or cold cereals, ice cream, whipped cream, or on seeds or nuts before roasting.
[caption id="attachment_2091" align="aligncenter" width="225"]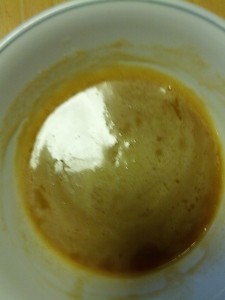 honey powder reconstituted[/caption]
It may be substituted in place of sugar in recipes by using the same measurements.  For liquid honey you use 1 cup of powder and ¼ cup of water.  You may need to use low heat to dissolve the powder completely.  Honey powder contains no artificial additives and provides the flavor characteristics of honey but without the liquid.  One of the benefits of honey powder is that you can use it almost anywhere without worrying about it leaking and leaving a sticky mess.
I made a cake by replacing honey powder for the sugar. This is a recipe I have used many times.  I also reconstituted some to try on toast.  How did we like it?  My kids couldn't tell that I didn't add sugar to the cake and my husband thought it tasted really good.  We also really enjoyed the reconstituted honey. I am anxious to try it in a glaze or dry rub on some pork.  Honey powder is something I will be adding to our food storage.
[caption id="attachment_2092" align="aligncenter" width="225"]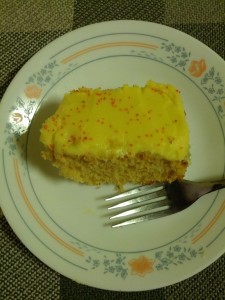 Starlight Cake[/caption]
Here is the cake recipe:
Starlight Cake
2 c. flour
1 ½ c. honey powder
3 ½ tsp. baking powder
1 tsp. salt
½ c. shortening
1 c. milk
1 tsp. vanilla
3 eggs
Beat all ingredients in large mixing bowl on low speed, scraping bowl constantly, for 30 seconds.  Beat on high speed for 3 minutes.  Pour into greased and floured pan.  Bake at 350 degrees for 40 to 45 minutes until wooden pick comes out clean.  Frost with desired frosting. (I used a buttercream frosting.)
Contributed by Pam Higley