[caption id="attachment_2226" align="alignleft" width="150"]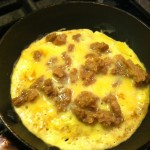 Omelet sausage[/caption] [caption id="attachment_2228" align="alignleft" width="150"]
scrambled Ova Easy Eggs[/caption] [caption id="attachment_2227" align="alignleft" width="150"]
Ova Easy Omelet[/caption]
It seems as though powdered eggs are one of the long term storage foods that scare people the most.  Fresh eggs have such a unique flavor and texture that the thought of a powder substitute is indeed a little strange. I shied away from egg powder for a long time and only recently started using it in my baked goods. They worked very well! However, until this week, I had never tried eating powdered eggs by themselves.
I have always heard good things about Ova Easy eggs. They're crystallized instead of completely pulverized into a powder, which helps give them a more natural texture upon rehydration. I decided to make an omelet out of Ova Easy crystals, some cheese, and my favorite meat substitute. Here's my recipe:
Ingredients:
2 tsp oil
2 Tbsp Ova Easy egg crystals
3 Tbsp water
1/4 cup imitation sausage, rehydrated in 1/2 cup boiling water
1/4 cup cheese of choice (freeze dried or fresh)
Salt and pepper (optional)
Directions:
Warm the oil in a frying pan over medium heat. In a small bowl, mix together the Ova Easy crystals and water. When pan is hot, pour in the egg mixture. Allow to cook until the bottom has slightly set, about 1 minute, then sprinkle on sausage and cheese (I used fresh mozzarella).  Place lid over pan and cook until the edges of the egg start to look firm. Remove lid and use spatula to carefully fold egg in half. Continue cooking until slightly browned, flipping omelet as necessary.  Remove from heat and sprinkle with salt and pepper to taste. Yield: 1 serving.
I really, really loved these eggs! I ate the omelet with a slice of homemade bread and a grapefruit, it was the perfect breakfast. I was amazed by the texture of the Ova Easy crystals -- I would never have guessed that my omelet wasn't made from fresh eggs. I'm glad I conquered my fear of shelf-stable eggs and plan on incorporating them into my meals on a more regular basis.  The Ova Easy eggs held their shape well for an omelet, but they'd also be great scrambled. Some other ideas? Mini quiches, breakfast burritos, egg sandwiches...feel free to experiment! Leave a comment to let me know what you come up with.
Contributed by Kate Wilt