My family loves spaghetti.  Because it's so versatile, I like to keep plenty on hand.  I also find it much cheaper to buy it in larger quantities.  One of our family's favorite recipes is Pasta in a Creamy Garlic Parmesan Sauce.  Food storage items that can be used in it are:  spaghetti, garlic granules, canned chicken, chopped onions, mixed peppers, mushroom slices, and butter powder.  You could even use it with the white cream sauce mix.  This recipe is very easy and will definitely fill you up.  Here's the recipe:
2 boneless skinless chicken breasts, cubed
2 T. olive oil
2 t. minced garlic
1 red bell pepper, chopped
1 red onion, sliced
1 8oz. pkg. mushrooms, sliced
1 c. white wine
½ c. butter
1 1/2 c. Half & Half
6 oz. fresh grated Parmesan cheese
1 T. parsley
4 cups cooked pasta
½ c. sliced tomatoes for garnish
Sauté the chicken in olive oil on medium-high heat.  Add the garlic, peppers, onion, mushrooms and wine.  Cook until veggies are tender.  Reduce heat to medium.  Add butter, half & half, parmesan, and parsley.  Heat until sauce thickens stirring frequently.  Serve over cooked pasta with tomatoes.   Serves 6.
Contributed by Pam Higley
[caption id="attachment_1093" align="aligncenter" width="225"]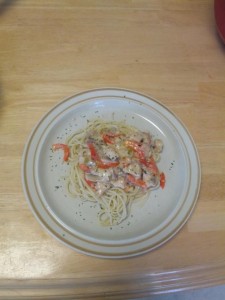 pasta in creamy garlic parmesan sauce[/caption]